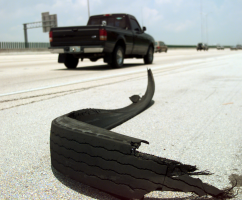 — With passage of the Fixing America's Surface Transportation (FAST) Act, the tire industry will be required to update its processes for selling and registering tires. The $325 billion, five-year Act is more than 1,300 pages long and is the first long-term transportation bill passed by Congress in 10 years.
The law will require tire sellers to register tires electronically at the point of sale. Before the new law, customers were provided owner postcards that had to be filled in and mailed. If the card wasn't mailed, there was no way for the tire manufacturer to notify a tire owner about recalls or other safety issues.
Tire recalls typically have a 30 percent response rate, thought to primarily be caused by owners who don't submit owner registration cards.
Although the Rubber Manufacturers Association was in favor of the new registration rules, the Tire Industry Association wanted no part of it.
The tire industry was against the Act because of the time it will take tire dealers to gather the required customer information and input it into the database, along with the information for each tire sold. Independent dealers will also be open to fines for failing to register the tires.
However, the Act requires NHTSA to conduct a study on requiring manufacturers to include electronic identification in tires, something that would make it much easier for independent dealers to register the tires.
The FAST Act also mandates the National Highway Traffic Safety Administration create an online database for consumers to search for safety issues by using tire identification numbers. The process is expected to be similar to searching for car recalls based on the vehicle identification number.
Tire owners will also have additional time to get tires repaired if a recall is ordered. Tire manufacturers must now offer a recall remedy for 180 days, up from the previously maximum time of 60 days.
Tire pressure monitoring systems will also come under additional scrutiny as NHTSA must propose rules to make sure monitoring systems cannot be altered or turned off.
Furthermore, new standards must also be met for tires to be more fuel efficient without affecting tire traction on wet surfaces.