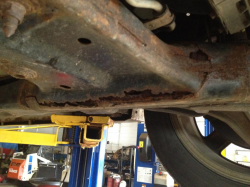 — A class-action lawsuit filed in Ohio alleges model year 2004-2008 Chrysler Pacifica cars have engine cradles that rust so severely the engines can fall out of the cars.
The lawsuit includes current owners of 2004-2008 Chrysler Pacificas with engine cradles that rust, corrode or experience perforation. Any Pacifica cars that have already been properly repaired by FCA US (formerly Chrysler) are not included in this lawsuit.
The plaintiffs claim FCA US didn't properly coat the engine cradles which allowed rust to damage the cradles and create a serious safety defect.
On October 23, 2010, FCA US issued a technical service bulletin (TSB) to its dealers concerning Chrysler Pacifica cars vibrating and shaking. Mechanics were told to check the engine cradles and front suspension of certain 2004-2005 Chrysler Pacificas with V6 3.5L engines. However, the TSB applied only in certain areas of Canada and 19 "salt belt" states in the U.S.
Then on November 9, 2010, FCA US issued a letter extending warranty coverage for 2004-2005 Chrysler Pacificas and offering to reimburse owners who paid for engine cradle repairs related to rust.
However, on March 16, 2012, Fiat Chrysler released another TSB which superseded the previous TSB. The March 2012 bulletin said the extended warranty and engine cradle defect applied to 2004-2005 Chrysler Pacificas in the salt belt, but only those cars that were manufactured during a specific six-week period in 2004: February 23, 2004 through March 31, 2004.
With this new time frame, approximately 7,000 Pacifica vehicles have been affected by the engine cradle rust defect.
The lawsuit alleges thousands of Pacifica owners whose vehicles were manufactured outside the six week time frame have been forced to either stop using their Pacificas or have been forced to pay for extensive repairs. The plaintiffs claim without the repairs the cars are dangerous to drive because the engines can fall out.
Chrysler Pacifica owners have told CarComplaints.com about mechanics surprised by the impact of the rust and how getting the cars fixed has been a problem because of the limited six-week time frame.
"This rust problem is HUGE....my wife and my two kids who ride everyday in this car and travel at high speeds to get them to daycare, school, sports, work, all use this car. We could've died today because nothing was ever mentioned about this defect in the rusty engine cradle. I had five really great mechanics looking at this today and they were SHOCKED at the rust." - 2005 Chrysler Pacifica owner / Bellevue, Michigan
"Our mechanic told us that the engine cradle is rusted thru and will become a HAZARD to drive. Called Chrysler corp office who in turn hung up on my husband. Called back to the corp office again and was told that we did not meet the specifics for the recall. Must be in a salt state which we are but the year the car was built does not matter. So basically Chrysler is saying "up yours" to us." - 2004 Chrysler Pacifica owner / Griffith, Indiana
The plaintiffs further claim FCA withheld information about the defective engine cradles and refused to do what was needed to fix the defect.
As a result, thousands of Chrysler Pacifica owners across the country are allegedly stuck with cars that are too dangerous to drive and very expensive to repair, in the neighborhood of $4,000 to $5,000. The lawsuit also says without the engine cradle repairs, the cars are difficult to sell because no one wants to take a chance on driving rusted cars with engines that can detach from the vehicles.
Because FCA acknowledged the rust problems in the service bulletins and extended warranty, the lawsuit accuses the automaker of fraudulent concealment by denying the defect in about 302,000 Pacificas.
The Chrysler Pacifica rusted engine cradle lawsuit was filed in the United States District Court for the Southern District of Ohio-Eastern Division - Holland, Jr. et al v. FCA US LLC.
The plaintiffs are represented by Clark Perdue & List.