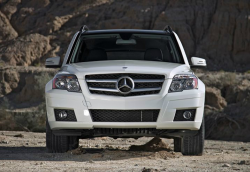 — Mercedes-Benz is recalling over 126,000 cars with airbag control units that may cause the airbags to unexpectedly deploy without a crash, or the airbags could fail to deploy in a crash.
The recalled cars include the 2008-2009 Mercedes-Benz C300, C300 4Matic, C63 AMG, C350 and 2010 Mercedes GLK350 and GLK350 4Matic.
Mercedes noticed the problem in March 2013 when customers were complaining about airbag warning lights illuminating. The automaker started a service campaign for 4-cylinder 5-speed automatic transmission vehicles that were not available in the U.S.
Additionally, Mercedes says it knew about incidents of airbags deploying for no apparent reason, something which caused the automaker to open an investigation.
A few months later the automaker learned of two unintended airbag deployments in 6-cylinder vehicles located outside the U.S. Those vehicles were equipped with 7-speed auto transmissions, an engine/transmission combination offered in the U.S. Further investigation determined no recall was needed because no defect existed.
In 2014, Mercedes learned of three airbag deployments in the U.S. on vehicles equipped with 6-cylinder engines, but the automaker couldn't find a root cause of the deployments. Then in 2015, another deployment occurred and Mercedes finally determined a defect exists in the airbag control unit.
Mercedes doesn't know when the recall will begin. Once underway, Mercedes-Benz dealers will inspect the airbag control unit and replace it if needed.
Affected owners with questions should call 800-367-6372.