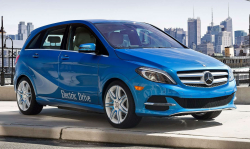 — Mercedes-Benz is recalling over 6,400 vehicles in three separate recalls, all for stalling problems.
Mercedes-Benz S63 AMG, S63 AMG 4Matic
Mercedes is recalling 3000 model year 2014 S63 AMG sedans and 2015-2016 S63 AMG 4Matic sedans and coupes with software errors that cause the vehicles to stall. Mercedes says the software error is inside the engine control unit and could cause a stall while the car is coasting to a stop.
The problem can be confusing for owners who believe the stall to be a planned shut-down as part of the ECO-Start-function. However, the engine will not restart automatically after releasing the brake pedal and the vehicle will not move without outside intervention.
The automaker says the recalled S63 AMG vehicles were manufactured May 14, 2013, to September 18, 2015.
The recall should begin on December 8, 2015. Mercedes-Benz dealers will update the engine control unit software. Owners of the 2014 S63 AMG and 2015-2016 S63 AMG 4Matic sedans can call 800-367-6372 and refer to recall number 2015100003.
Mercedes-Benz B-Class Electric Drive
Another 2,600 Mercedes cars are recalled for stalling problems. The 2014-2015 B-Class Electric Drive cars have errors in the electric drive systems that cause the electric powertrain to shut off. The vehicle could shut down at any time, including while driving at highway speeds.
The recalled vehicles were built November 21, 2013, to May 26, 2014.
The recall won't get started until December 2015, when dealers will update the electric drive system software.
Mercedes-Benz CLA250, CLA250 4Matic, GLA250, GLA250 4Matic and SLK300
Over 850 Mercedes cars are recalled before the engines are damaged. Affected models include the 2015 Mercedes-Benz CLA250, CLA250 4Matic, GLA250, GLA250 4Matic, and 2016 SLK300 roadsters.
Mercedes determined vehicles equipped with 4-cylinder gas engines have a camshaft weld that might have been made out of specifications, placed at the wrong position.
The engines are designed with two camshafts, one intake camshaft and one exhaust camshaft. With the weld in the wrong position, one or both camshafts could break and damage the engine until it stalls. The engine cannot be started once a camshaft damages the engine.
The vehicles with the bad welds were built July 17, 2015, to August 31, 2015.
The recall will begin November 30, 2015. Mercedes-Benz dealers will replace one or both camshafts, but with questions before that contact the automaker at 800-367-6372 and use recall number 2015100006.