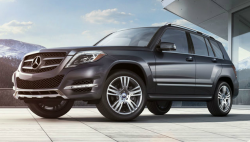 — Mercedes-Benz is adding 814 vehicles to a recall that started in December 2014. The original recall involved 4,800 cars that could leak oil from a faulty gasket seal. The expanded recall adds 814 model year 2015 E250 BlueTec, E250 BlueTec 4Matic, GLK250 and ML250 BlueTec Mercedes vehicles.
The recall was issued after Mercedes-Benz discovered the chain tensioner could leak because the tensioner wasn't torqued properly in the engine block. The automaker determined the gasket material tolerances were out of whack, but only for vehicles produced during these specific time periods.
2015 Mercedes-Benz E250 BlueTec: Manufactured November 3, 2014, to December 15, 2014.
2015 Mercedes-Benz E250 BlueTec 4Matic: Manufactured November 4, 2014, to December 17, 2014.
2015 Mercedes-Benz GLK250: Manufactured November 13, 2014, to January 30, 2015.
2015 Mercedes-Benz ML250 BlueTec: Manufactured December 12, 2014, to February 9, 2015.
Mercedes says testing was conducted to find out how engine temperatures affected the gaskets. Because of the gasket material not being uniform and consistent, oil can leak from around the gaskets.
With leaking oil comes the risk of fire if the oil hits any part of a hot engine, in addition to oil causing a hazard to other cars on the road.
Owners of the recalled Mercedes vehicles should have received mailed notifications describing how dealers will replace the chain tensioner gasket.
However, if you have questions or concerns, contact Mercedes-Benz customer service at 800-367-6372 and give them recall number 14V-762.