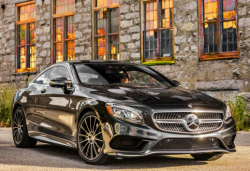 — Mercedes-Benz is recalling over 2,500 cars to fix problems with the seat belts. The recalled vehicles are the 2015 Mercedes-Benz S550 4Matic Coupe, AMG S63 4Matic Coupe and Mercedes-Benz AMG S65.
In March 2015, Mercedes discovered a vehicle had front seat belts that were installed on the wrong sides (left/right interchanged). An investigation looked into the technical possibility of interchanging the mounting of the front seat belts and it was determined the seat belts geometrically fit on both sides of the vehicle.
In addition, both seat belts are shipped in the same box to the assembly line and both are mounted in the same assembly area by one worker. Logically this indicates it's possible a worker error could cause the seat belts to be interchanged.
From May to August 2015, the automaker researched the consequences of interchanged seat belts and it was determined the seat belts violated at least two U.S. safety regulations. First, the seat belt locks might not work correctly to hold an occupant in a crash, and second, the child seat restraint feature won't work.
Mercedes dealers will check the seat belt installation position of the front seat belts and correct the positions. The recall should begin by the end of October 2015.
Owners of the recalled vehicles may call Mercedes-Benz at 800-367-6372 and use recall number 2015100002.
2015 Mercedes-Benz S550 Hybrid
In a separate recall of only four cars, Mercedes will fix fuel system problems in the 2015 S550 Hybrid. The automaker says the fuel pump output may cause the car to stall after driving in electric mode. The fuel output can also be low enough to cause a failure of the gas engine to start.
The recalled Mercedes S550 Hybrid cars were built from May 13, 2013, to April 22, 2015.
Mercedes says the 2015 S550 Hybrid recall will begin in November 2015, when dealers will update the fuel system control unit software.
Owners with questions should contact Mercedes-Benz at 800-367-6372.
CarComplaints.com has complaints about the Mercedes-Benz S550 and many other Mercedes cars.