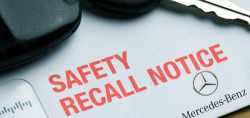 — Mercedes-Benz has announced two recalls that will see over 33,000 vehicles called back to shops for repairs. The largest of the two recalls involves 30,141 cars that can suffer LED tail light failures.
Mercedes-Benz CLS 400 and CLS 400 4matic, CLS 550 and CLS 550 4matic, CLS 63, CLS 63P
Mercedes-Benz says over 30,000 cars have LED tail lights that may not illuminate on the sides, a violation of U.S. federal safety standards. The automaker says the affected model years include the 2015 CLS 400 and CLS 400 4matic, 2012-2015 CLS 550 and CLS 550 4matic, 2012-2013 CLS 63, 2014 CLS 63 and 2014-2015 CLS 63P.
Mercedes first learned of the problem in December 2014 during a routine quality check on CLS-class cars. An investigation found a possible problem with software coding, then a later investigation confirmed inaccurate coding caused the LEDs in both tail lights to fail.
The automaker hasn't determined when the recall will begin. Mercedes-Benz dealers will make sure the LED tail lights keep working by updating the lighting controller software.
Mercedes-Benz C300 4matic and C400 4matic
Over 3,000 model year 2015 Mercedes-Benz C300 4matic and C400 4matic cars are recalled to fix gas leaks that could cause a fire. Mercedes says the fuel delivery module might not be properly attached to the gas tank. In addition, electrical wires used to connect the delivery module might have been pinched between the gas tank and the delivery module.
Two possibilities exist to cause problems. One involves the loose locking plate that can leak gas and cause a fire. The other is the pinched electrical wires which can cause fuel pump failure. The car will stall and leave you stranded once the fuel pump fails.
Mercedes-Benz says the recalled 2015 C300 4matic and C400 4matic cars were manufactured April 7, 2014, to July 25, 2014.
The automaker doesn't know when the 4matic recall will begin, but it's known dealers will inspect the wires and locking plates and repair them if needed.
If you own any of the recalled vehicles and have questions, contact Mercedes-Benz at 800-367-6372. The recall number for the locking plates and wiring recall is 2015030004. The number for the tail light recall is 2015030005.