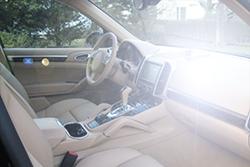 — A Porsche dashboard glare lawsuit might not shine in court if the automaker gets it way.
Plaintiffs Roy Jones and Alyce Rubinfeld claim Porsche beige and light-colored dashboards cause a glare on the windshields that make seeing the road nearly impossible. The lawsuit names the Luxor Beige and Sand Beige dashboards, although any other beige or lighter-colored dashboard can create the same glare.
The lawsuit alleges the dashboard glare on the windshield is a safety risk that Porsche fails to mention when selling the cars. The plaintiffs claim Porsche knew, or should have known, about the windshield glare because of internal data and customer complaints, yet chose to conceal the alleged defect.
In its motion to dismiss, Porsche says all windshields can reflect a glare because that's what glass does in the sun. And while the plaintiffs argue the dashboard glare is a safety hazard, the automaker says no one has said the glare has stopped them from driving their cars. Additionally, Porsche says the plaintiffs never allege they suffered any injuries from the dashboard glare.
The lawsuit describes how the plaintiffs weren't allowed to test drive cars with light-colored interiors and if given the chance to do so, they would not have purchased their cars. However, Porsche says it believes it's just a case of buyer's remorse. Saying the plaintiffs have no evidence a safety defect exists, Porsche argues taking away the option for a beige or light-colored interior will do nothing but hurt those who want a car with those interiors.
The automaker also points out in its motion to dismiss how the plaintiffs never claim to have lost a cent due to the alleged defect and none of the plaintiffs can provide a date of when the alleged problem was first noticed.
Additionally, Porsche takes issue with the accusation it knew about the alleged defect. The automaker says based on complaints, repair records and dealership input, no reasonable person would conclude Porsche knew about a defect.
The Porsche dashboard glare lawsuit was filed in the Superior Court of California Los Angeles County - Roy Jones et al v. Porsche Cars North America, Inc.
The plaintiffs are represented by Capstone Law APC.