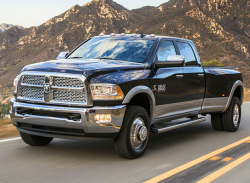 — Fiat Chrysler is recalling over 1.7 million trucks in two separate recalls, the majority recalled due to front driver-side airbags that can deploy when they shouldn't. The remaining recalled trucks have other airbags that can also punch you without reason.
Ram 1500, 2500, 3500, 4500, and 5500
The recall involves over 1 million model year 2012-2014 Ram 1500, 2500, 3500, 4500, and 5500 trucks equipped with the optional electronic vehicle information center.
Chrysler says the steering wheel wiring harness might rub against the driver airbag module retainer spring. With enough abrasive action against the retainer spring, a short-circuit can occur and trigger the driver-side front airbag, no crash needed.
The Ram trucks will need the steering wheel wiring harnesses inspected and secured. Dealers will also add protective caps to the airbag retainer spring ends.
Ram owners have a little while to wait as the recall won't begin until September 19, 2015. The steering wheel wiring harness recall number is R36 and you can contact the automaker at 800-853-1403.
Ram 1500, 2500, and 3500
Chrysler is recalling over 667,000 trucks in the U.S. for more airbag problems, although this recall involves side airbags that can knock you silly without need of a crash.
Fiat Chrysler says the 2013-2015 Ram 1500, 2500, and 3500 trucks have side-impact airbag sensors that might be too sensitive. With the sensor calibrations too sensitive, the side airbag curtains and seat airbags can deploy without warning. The automaker further says the pretensioners for the seat belts can activate when the airbags deploy.
Chrysler says the recalled trucks were built June 20, 2012, to January 26, 2015, and although no accidents have been reported, Fiat Chrysler says two minor injuries have occurred.
An additional 153,011 recalled trucks are in Canada, 8,272 in Mexico and 14,847 outside North America.
The automaker is warning truck owners to be careful about slamming the doors until the recall repairs are made.
Chrysler doesn't know when the recall will begin. Its dealers will update the occupant restraint control module calibration, but until then, owners can call 800-853-1403 and refer to recall number R23.