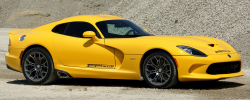 — The Dodge Viper SRT is known for grabbing the road and not letting go, but it looks like some of those cars have door latches that let go when they shouldn't.
Fiat Chrysler is recalling 1,762 model year 2013-14 Dodge Viper SRT cars because the doors can fly open while driving. The problem was discovered after Dodge received three warranty claims that said the doors came open while traveling at slow speeds.
Dodge engineers investigated those reports as well as reports about doors failing to close, and determined the problem is caused by sealant that's applied to the switches that control the Viper door latches.
The supplier had recently started using a new sealant that failed to protect the electronic switches from moisture. Without adequate protection from the dampness, the switches can short-circuit and cause failures of the door handles.
Dodge says about 1,451 of the recalled 2013-14 Dodge Viper SRT cars are in the U.S.; 160 are in Canada; 17 in Mexico and 59 outside North America.
The recall is expected to begin May 18, 2015, when Dodge dealers will start replacing the door handle assemblies and top covers.
Owners of the recalled 2013-14 Dodge Viper SRT can contact Fiat Chrysler at 800-853-1403. Chrysler's number for the Viper recall is R14.