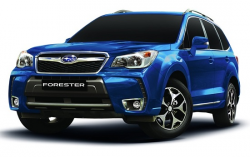 — Subaru is recalling almost 199,000 vehicles for the second time because the first recall didn't quite work out. And that previous recall included vehicles that had already been recalled for the exact same problem. Confused?
In July 2014, Subaru recalled 660,000 vehicles to repair rusted brake lines that could cause a complete loss of braking. That July recall included vehicles that were originally recalled in April 2013 for the same brake line problem.
Now 199,000 of the vehicles recalled in July 2014 need to be fixed again. Subaru names the vehicles as the 2008-2011 Subaru Impreza, 2008-2014 Subaru WRX and STI and the 2009-2013 Subaru Forester.
However, the recall involves only those vehicles currently, or formerly registered in Connecticut, Delaware, Illinois, Indiana, Iowa, Maine, Maryland, Massachusetts, Michigan, Minnesota, Missouri, New Hampshire, New Jersey, New York, Ohio, Pennsylvania, Rhode Island, Vermont, West Virginia, Wisconsin and the District of Columbia.
This is a regional recall based on areas where salt is used on the roads in cold weather. The salt water can reach the brake lines through a gap in the fuel tank protector. Affected owners outside those areas can still get the work done for free, but only by asking Subaru to perform the repairs.
The brake line problem is related to a rust-proofing chemical used in the previous recalls, but the repairs didn't go as planned.
Subaru learned of the problem in November 2014, when the supplier of the rust-proofing chemical notified Subaru and said the automaker wasn't using as much of the chemical as it should. The supplier said its inventory was too high, meaning Subaru didn't use the amount it should have used during the previous recall.
Subaru found the previous recall procedure was not performed properly concerning "application of rust-proofing on 4-way connector."
If brake fluid leaks from one brake line the vehicle should still be able to stop, although it could take a while to do that. If both brake lines leak, well, hopefully you won't need to stop anytime soon.
The recall should begin January 26, 2015, when dealers will apply an anti-corrosion wax to the four-way joint connector area of the brake line system. You'll need to have the work done even if you had your vehicle "repaired" before.
If you have questions or concerns and own a 2008-2011 Subaru Impreza, 2008-2014 Subaru WRX/STI or a 2009-2013 Subaru Forester, call the automaker at 800-782-2783. Subaru's number for this recall is WQQ-52.