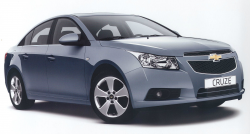 — Suzuki Motor Corp. is recalling about 2 million cars to replace ignition switches that can catch on fire. Currently the recall involves cars outside of North America, with the majority of the recalled cars in Japan. Additionally, some of the cars were made by Suzuki for other major automakers.
The recall takes in about 1.8 million 1998-2009 Mazda AZ-Wagon, Carol and Laputa cars, the 1998-2009 Chevy Cruze from General Motors and Suzuki models Alto, Swift and WagonR. An additional 134,000 model year 1998-2009 Suzuki Swift, Alto and Chevy Cruze cars will be recalled outside Japan.
While General Motors and Chrysler have had serious issues with defective ignition switches in the U.S., the Suzuki recall is different in the fact the switches can overheat and cause smoke and fires.
Suzuki blames the problem on a certain grease used with the ignition switches. The grease can be affected by carbonization and cause electric current to keep running through the switches, even when the cars are shut off.
The automaker says no injuries have been reported, but there have been 67 reports of smoke flowing out of ignition switches.
Suzuki said replacement parts should be available in June 2015.