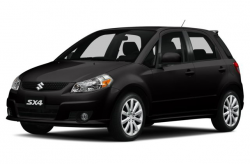 — Suzuki is recalling over 18,600 SX4 cars to replace the power steering pumps. The automaker says the 2012-2103 Suzuki SX4 doesn't have enough clearance between the power steering pump and the steering fluid control valve. The problem can cause the power steering pump to seize and the driver to suddenly lose power steering assist.
The process that causes the problem isn't simple. Suzuki says the problem begins after long periods of the car sitting parked in cold weather. The engine can be started, but if the engine speed is increased when the steering wheel is turned completely to the right or left, there is a rise in power steering fluid temperature.
The oil flow control valve (spool valve), which moves as oil pressure increases to relieve the oil pressure when it becomes too high, heats more quickly than the surrounding pump body and then expands.
Some power steering pumps were made with insufficient clearance between the control valve and surrounding pump body that is at the low end of the design specification range and may fail under this condition, especially when contamination is present. For these pumps, the spool valve may not move correctly to relieve the oil pressure when it becomes too high.
If the spool valve cannot properly relieve the oil pressure, the oil pressure can exceed the maximum pressure and the pump side plate can deform to the extent that it contacts the pump rotor, causing seizure of the pump.
If the power steering pump seizes, the pump system cannot supply enough oil pressure to the steering gear to provide power steering assist.
Suzuki says the recalled cars were manufactured September 3, 2011, to April 5, 2013.
The recall will get started October 9, 2015. Suzuki dealers will replace the power steering pump in the affected cars.
If you own a Suzuki SX4 and have questions about the recall, contact the automaker at 800-934-0934 and refer to recall code VS.