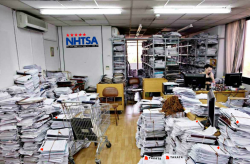 — Airbag maker Takata has learned what not to do when the U.S. National Highway Traffic Safety Administration (NHTSA) investigates a company for alleged wrongdoing. Takata found out it's not a good idea to throw 2.4 million pages of documents at NHTSA without explaining anything about those documents.
NHTSA had requested all documents related to an ongoing investigation into metal Takata airbag inflators that can explode when the airbags deploy. Those exploding airbags have caused millions of vehicles to be recalled and are the source of numerous injuries and deaths.
The government says Takata has not fully cooperated with the investigation and started fining the company $14,000 per day for every day it doesn't supply NHTSA with appropriate materials. The fine began on February 20, 2015.
Calling Takata's response a waste of time and resources, NHTSA said Takata's failure to fully cooperate with the investigation is "unacceptable and will not be tolerated."
For its part, Takata responded to the $14,000 daily fine by saying it strongly disagrees with the charge it hasn't been fully cooperating with the government.
"In response to NHTSA's Special Orders, we have provided the agency with almost 2.5 million pages of documents to date. We have also been meeting regularly with NHTSA engineers on efforts to identify the root cause of the inflator issue. We continue to keep NHTSA closely informed on the extensive testing efforts we have undertaken."
While the root cause of the exploding airbags is still to be determined, Takata says its investigation supports an earlier belief the airbag inflators explode because of age and exposure to heat and humidity.
The airbag maker claims it's in the process of accelerating the availability of replacement airbag inflators in high absolute humidity areas and has been working with other inflator suppliers to meet demand.
NHTSA made it clear the $14,000 daily fine will continue until Takata cooperates, but the government hasn't publicly said exactly what Takata must do to cooperate.