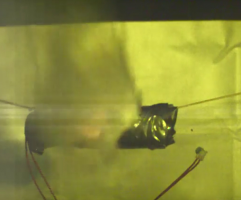 — Car owners have talked about Takata airbag explosions but most consumers have only seen or read about the aftermath of what an exploding airbag inflator can do to the human body.
Blamed on at least eight deaths and over 100 injuries, the metal inflators can explode from an airbag deployment even in a slow-speed fender-bender.
Filmed in slow motion at the Battelle research lab in Ohio, the metal inflator can be seen exploding in milliseconds at the time an airbag would be triggered to deploy in a crash.
It's not difficult to understand what will happen when an explosion of this magnitude occurs just a few feet away from a driver's upper body, sending shrapnel throughout the cabin.
Takata airbag explosion
The National Highway Traffic Safety Administration (NHTSA) says about 22 percent of the estimated 23.4 million recalled inflators have been replaced. In addition, NHTSA says it's highly possible more automakers and vehicles will be added to the list.
Safety regulators are aware there is a possibility all replacement inflators may need to be recalled again because the root cause has not been established for the airbag explosions. Investigators believe the likely cause is a combination of age, heat and humidity that causes moisture to alter the explosive chemical, ammonium nitrate.
Because of current belief, vehicles in areas of heat and high absolute humidity have been recalled and repaired before vehicles in other areas of the U.S. However, Takata says it still hasn't reached a solid conclusion about what is causing the airbag inflator explosions.
Adding to the confusion is a 2015 Volkswagen Tiguan in Missouri that experienced an exploding Takata side airbag. Safety investigators must determine if the airbag explosion is related to previous inflator ruptures that have occurred only in older vehicles, and previously only with frontal airbags.
Throw into the mix General Motors that recalled 400 of its new vehicles after a seat-mounted side airbag metal inflator exploded during a test of the airbags. As with Volkswagen, GM hasn't determined what caused the Takata airbag inflator to explode.
Although NHTSA says it's important car owners get their vehicles repaired as soon as possible, the government also admits that task is only possible when enough replacement inflators are available. In addition to Takata, three auto parts suppliers are sending replacement inflator kits out the doors as quickly as possible, but demand is overwhelming supply.
NHTSA says it's contemplating a complete takeover of all Takata-related recalls and will make a decision by Thanksgiving.