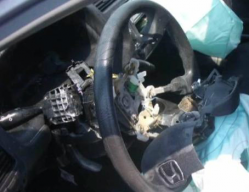 — Takata airbag recalls might be expanded to include automakers that haven't had their names thrown into the Takata airbag circus ring.
The National Highway Traffic Safety Administration (NHTSA) believes there are at least 23.4 million Takata airbag inflators at risk of exploding when the airbags deploy. Those inflators are installed in over 19 million vehicles on American roads, some vehicles with Takata inflators in both frontal airbags.
NHTSA has requested information from seven additional automakers that have stayed out of the news for Takata-related problems, in comparison to the 12 automakers already affected by the airbags. The government sent inquiry letters to the additional companies to determine how many cars are equipped with the defective and deadly inflators.
The automakers now being examined are Mercedes-Benz, Jaguar Land Rover, Suzuki, Tesla, Volvo, Volkswagen and Spartan Motors. NHTSA has always said the number of affected automakers and models will probably be expanded as more is known about how far the problem extends.
Specifically, the government wants the seven companies to list all models that use airbags with ammonium nitrate, the explosive chemical used as the propellant to deploy the airbags.
Takata believes it's that chemical which has caused at least eight deaths and over 100 injuries from airbags that exploded when they deployed. In many cases, the airbags have exploded from very slow-speed impacts, such as a fender-bender in a parking lot. The chemical, ammonium nitrate, is known to be affected by moisture that makes the ammonium nitrate unstable.
Takata engineers believe age, heat and humidity cause the metal airbag inflators to explode with too much force. In place of a cushion to protect an occupant in a crash, the metal inflator acts like a grenade that sends shards of metal through the vehicle, including the occupants.
The injuries can be so severe that first responders can't stop the bleeding and in some cases, police agencies believed a driver was attacked before the vehicle crashed. Read about the death of Hien Tran and other fatalities by clicking the links below.