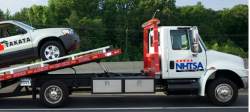 — The National Highway Traffic Safety Administration (NHTSA) is demanding airbag maker Takata save all metal airbag inflators that have caused over 17 million cars to be recalled.
In an ongoing dispute with Takata, NHTSA wants the inflators saved not only for government investigators, but also for drivers who file lawsuits against Takata. The government order follows the announcement NHTSA is fining Takata $14,000 for each day the airbag maker doesn't "fully cooperate" with safety regulators.
The entire problem is caused by metal inflators that can explode when the airbags deploy. Takata believes age and exposure to heat and humidity can cause the inflators to degrade and send shards of metal into occupants during a crash. Those airbags have caused many injuries and deaths in addition to numerous lawsuits.
The order to save the airbag inflators includes other stipulations in addition to the order prohibiting the destruction of the inflators. Takata must save 10 percent of recalled inflators specifically for private individuals for testing purposes. The airbag maker must also give NHTSA access to all testing data and must supply the government with all requested inflators for testing purposes.
NHTSA also announced a previous investigation of Takata airbags has been upgraded to a formal engineering analysis to determine the root cause of the exploding inflators. The upgraded investigation will also determine if Takata violated federal safety laws by not letting the government know of a safety defect during the previous 11 years.