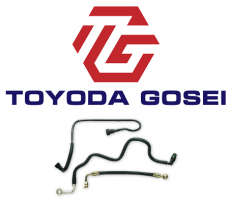 — Toyoda Gosei North America Corporation supplies auto parts used in millions of U.S. vehicles, including auto hoses used throughout vehicle fuel systems. Those hoses are now the focus of a lawsuit that could include every vehicle in the U.S. that contains a hose from Toyoda Gosei North America.
The lawsuit was filed by at least 50 plaintiffs who accuse Toyoda Gosei of working to "fix, raise, maintain and/or stabilize prices, rig bids for, and allocate the market and customers in the United States for automotive hoses."
The price-fixing lawsuit, if granted class-action status, could include a massive number of vehicles in the U.S. because the lawsuit means to cover any vehicle with a hose that was manufactured by Toyoda Gosei since May 2003.
The Toyoda Gosei North America hose price fixing lawsuit was filed in the U.S. District Court, Eastern District of Michigan - Ascher et al v. Toyoda Gosei Co. Ltd. et al.
The plaintiffs are represented by The Miller Law Firm, P.C.
This isn't the first time Toyoda Gosei has faced questions over price-fixing its automotive hoses. In 2014, Toyoda Gosei agreed to plead guilty after the U.S. Department of Justice accused the parts maker of conspiracies to fix prices and rig bids for airbags, steering wheels and hoses. All of those important parts were sold to Toyota and Subaru for use in fuel tanks and other areas of vehicles.
In pleading guilty, Toyoda Gosei agreed to pay a $26 million criminal fine and to cooperate in an ongoing investigation by the Justice Department.
Federal prosecutors accused Toyoda Gosei of selling automotive hoses at noncompetitive prices to Toyota in the U.S., and selling airbags and steering wheels at noncompetitive prices to Toyota and Subaru in the U.S. and elsewhere.
Prosecutors said the automotive hose conspiracy started as early as February 2004 and continued until at least September 2010. The conspiracy concerning airbags and steering wheels goes back to September 2003 and continued until at least September 2010.
Price-fixing in the auto parts industry has been a huge problem in the U.S. and led to consumers paying more for vehicles and car parts than needed. Parts companies, including Toyoda Gosei, have paid out a whopping $2.4 billion in fines for their role in price-fixing conspiracies.