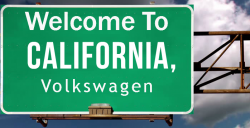 — Volkswagen and the state of California haven't been on good terms since the automaker was caught cheating on nitrogen oxide emissions standards. With its strict emissions laws, California has taken numerous actions against the automaker, and now VW is gearing up for even more headaches in California.
With more than 450 civil lawsuits pending against the automaker across the country, Volkswagen knew those cases would be consolidated into multidistrict litigation to be heard in front of one judge.
Lawyers from across the U.S. were advocating for consolidation in 28 different federal districts and Volkswagen supported consolidation in the Eastern District of Michigan and the Eastern District of Virginia.
However, the U.S. Judicial Panel on Multidistrict Litigation decided California will be home to the litigation, specifically the U.S. District Court for the Northern District of California.
The California Air Resources Board has been a main player since the emissions scheme was uncovered and about one-fifth of the lawsuits filed against the automaker were filed in California.
Volkswagen Carbon Dioxide (CO2) Emissions
Volkswagen says its carbon dioxide emissions problem in 1.2 million cars outside the U.S. may not be a problem at all. Of course, it will be government authorities to provide the final determination on the subject, but VW is convinced the CO2 issues were blown out of proportion.
Volkswagen says stringent investigations and measurements conclude that almost all models correspond to the correct CO2 levels. In addition, no changes in fuel consumption were discovered and the vehicles can be sold without any limitations or modifications.
VW says "slight deviations" were found on nine 2016 models, but those deviations were minor and won't effect fuel consumption.
VW will need to make adjustments as soon as possible concerning CO2 figures on the following nine model variants totaling about 36,000 vehicles:
Volkswagen Polo
Volkswagen Scirocco
Volkswagen Jetta (Two variants)
Volkswagen Golf Convertible
Volkswagen Golf
Volkswagen Passat (Three variants)
All internal tests will repeated by neutral authorities to confirm Volkswagen's findings. The automaker hopes the work is completed by December 25, 2015. If deviations are discovered by outside labs, VW will adjust its figures accordingly.
Volkswagen has notified the proper German authorities about the carbon dioxide results and how the deviations amount to a few grams of CO2 on average.
VW expected to throw out another $2 billion after the alleged carbon dioxide problems were discovered, something the automaker says won't be necessary. However, final monetary amounts won't be known until all testing is finished.