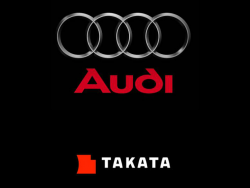 — Volkswagen doesn't have enough problems with its illegal emissions disaster, so airbag manufacturer Takata is adding to VW's nervousness.
About 217,000 Audi vehicles will be recalled to replace passenger-side airbag inflators that could explode and send pieces of metal into vehicle occupants. The recall is part of massive Takata airbag recalls ordered by the National Highway Traffic Safety Administration consisting of 35-40 million vehicles in addition to about 29 million vehicles already recalled.
Audi is handling the recall as other automakers have, by recalling certain vehicles in "zones" of the country. Many automakers are recalling numerous models of vehicles, but Audi says only a few of its models are affected.
Audi Takata Airbag Recall for Zone A
Recalled are the 2004-2008 Audi A4 and 2005-2011 Audi A6 if they were originally sold or ever registered in the following "zone A" areas:
Alabama, California, Florida, Georgia, Hawaii, Louisiana, Mississippi, South Carolina, Texas, Puerto Rico, American Samoa, Guam, the Northern Mariana Islands (Saipan) and the U.S. Virgin Islands.
Audi Takata Airbag Recall for Zone B
Unless included in zone A, the 2004-2008 Audi A4 and 2005-2008 Audi A6 are recalled if originally sold or ever registered in zone B areas:
Arizona, Arkansas, Delaware, District of Columbia, Illinois, Indiana, Kansas, Kentucky, Maryland, Missouri, Nebraska, Nevada, New Jersey, New Mexico, North Carolina, Ohio, Oklahoma, Pennsylvania, Tennessee, Virginia and West Virginia.
Separately, unless included in zone A or zone B, the 2004 Audi A4 will be recalled if originally sold or registered in the following areas:
Alaska, Colorado, Connecticut, Idaho, Iowa, Maine, Massachusetts, Michigan, Minnesota, Montana, New Hampshire, New York, North Dakota, Oregon, Rhode Island, South Dakota, Utah, Vermont, Washington, Wisconsin and Wyoming.
The passenger-side airbag inflators in the Audi vehicles are at risk of exploding because they use a chemical called ammonium nitrate. That chemical can become unstable due to age and humidity and turn airbags into grenades because of the metal inflators inside the airbags.
Unlike Honda and Ford, there have been no occupants killed by airbags in Audi vehicles, but the danger is still there because the airbags don't contain a drying agent known as a desiccate. The ammonium nitrate can become unstable without the desiccate and take what should be a small explosive force and turn it into a killer explosion.
Audi doesn't know when the recall will begin, but dealers will eventually replace the passenger frontal airbag inflators.
Owners of the recalled Audi A4 and Audi A6 cars may contact the automaker at 800-822-2834.
Read complaints submitted to CarComplaints.com from owners of the Audi A4 and Audi A6.