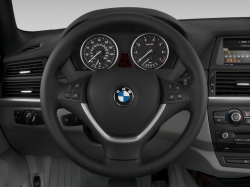 — Takata airbag inflator problems continue to infest the vehicles of numerous automakers, as BMW can attest. BMW was supposed to be replacing Takata airbag inflators to meet a deadline set by the government, but the automaker missed the deadline.
The National Highway Traffic Safety Administration (NHTSA) has extended the deadline by five months because the replacement airbag inflators were found to be defective.
Those metal Takata inflators have killed at least 10 people and injured about 140 after the inflators exploded when the airbags deployed. The exploding inflators are similar to exploding grenades that send shrapnel into vehicle occupants.
Automakers have tried to move quickly on the airbag recalls, but with tens of millions of recalled vehicles to deal with, the process hasn't been as quick as hoped. Then instances of bad replacement inflators have delayed the completion of recalls, just as what happened with BMW.
NHTSA set a March 31, 2016, deadline for all automakers to have enough replacement airbag inflators for certain vehicles listed as "priority one." These cars are located in areas of high absolute humidity, something that can contribute to moisture entering the inflator and altering the explosive chemical, ammonium nitrate.
BMW is the only automaker that didn't meet the March 31 deadline due to problems with the replacement inflators. Although Takata caused the original recalls, some automakers are using different airbag companies to acquire replacement parts. BMW didn't name the supplier, but a company other than Takata was supplying the inflators for BMW vehicles. However, a delay occurred when tests showed problems with the replacement inflators.
A separate deadline of September 30 must be met by all affected automakers concerning having enough replacement airbag inflators for "priority two" vehicles, cars outside areas of high absolute humidity. Due to BMW having trouble with the replacement inflators, NHTSA is giving the automaker until 2017 to fix the cars.
BMW says about 100,000 priority one vehicles are involved and another 300,000 priority two cars need repairs. The automaker said it will come up with a way to make the repairs if there are problems with the new parts.