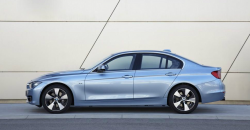 — BMW is recalling more than 136,000 vehicles with fuel pumps that may fail and cause the engines to stall. BMW also says the in-tank fuel pumps can cause fuel leaks, possibly causing fires.
The long list of vehicles include the following:
2007-2011 BMW X5 3.0si
2007-2011 BMW X5 4.8i
2007-2011 BMW X5 M
2007-2011 BMW X5 xDrive30i
2007-2011 BMW X5 xDrive35i
2007-2011 BMW X5 xDrive48i
2007-2011 BMW X5 xDrive50i
2008-2011 BMW X6 xDrive35i
2008-2011 BMW X6 xDrive50i
2008-2011 BMW X6 M
2010-2011 BMW X6 ActiveHybrid
2010-2011 BMW 535i xDrive Gran Turismo
2010-2011 BMW 535i Gran Turismo
2010-2011 BMW 550i xDrive Gran Turismo
2010-2011 BMW 550i Gran Turismo
2011-2012 BMW 528i
2011-2012 BMW 535i
2011-2012 BMW 535i xDrive
2011-2012 BMW 550i
2011-2012 BMW 550i xDrive
2012 BMW 535i ActiveHybrid
2012 BMW 640i Convertible
2012 BMW 650i Convertible
2012 BMW 650i xDrive Convertible
2012 BMW 650i Coupe
2012 BMW 650i Coupe xDrive
The automaker says the fuel delivery module contains an in-tank fuel pump with wiring that may not have been crimped enough. Engineers determined the insufficient crimps can cause an increase in contact resistance which can lead to heating of the contact pins.
The plastic around the contact pins can melt and cause fuel to leak after refueling or when the vehicle travels around a corner. In addition to the possibility of fuel pump failure, leaking gas near an ignition source isn't good for anyone.
In June 2011, BMW started hearing customer complaints involving gas odors from the cars but believed a warning light would be good enough to tell consumers to have their cars serviced. But by September 2014, more warranty claims and customer complaints were coming in, so BMW issued a worldwide extended warranty program involving the fuel delivery module of affected vehicles which provided coverage for 10 years/unlimited mileage.
However, the automaker did decide to recall vehicles for the problem in China, then that recall was extended to Japan. By June 2016, BMW initiated a "service action" in Korea after Korean authorities asked BMW to do something about the gas odor complaints.
In the U.S., the automaker determined having a vehicle fixed under the extended warranty seemed to take care of the problem, but customers who didn't have their cars serviced were still having problems.
BMW says if a vehicle doesn't have the fuel delivery module replaced as part of the extended warranty, the smell of gasoline is only one possible problem. Owners have also complained about their cars failing to start, or cars that stall while driving.
BMW doesn't know of any accidents or injuries caused by the defect, but the automaker went ahead with a recall so owners will be pushed to have their cars repaired.
The BMW recall should begin December 5, 2016, when dealers will start replacing the fuel pump modules.
If you own one of the affected vehicles and it wasn't repaired under the extended warranty, feel free to call BMW at 800-525-7417.