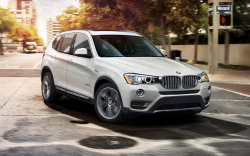 — BMW has announced two recalls involving more than 644,000 vehicles worldwide for two separate defects.
Child Safety Seat Anchor Bars
BMW is recalling more than 622,000 vehicles worldwide and about 189,000 in the U.S. because of problems with anchor bars used for child safety seats. The vehicles vary in models and years.
2011-2017 BMW X3 xDrive28i
2011-2017 BMW X3 xDrive35i
2015-2017 BMW X3 xDrive28d
2015-2017 BMW X4 xDrive28i
2015-2017 BMW X4 xDrive35i
2015-2017 BMW X4 xDriveM40i
BMW says the lower anchor bars for securing child restraint seats may become damaged when using the specific European-ISOFIX-type rigid-style connectors.
BMW learned of a possible problem in March 2015 when a report came in on a 2011 BMW X3 in Europe. The customer said an unoccupied child seat moved sideways as the vehicle went around a curve. The owner found that one of the lower anchor bars was damaged and caused the child seat to move out of place.
Later the automaker learned about two additional reports of damaged anchor bars on X3 vehicles, again in Europe. BMW tested the anchor system and discovered an insufficient weld of the lower anchor bar to the mounting plate.
Additional investigations into warranty claims found more anchor bar claims, including an incident where both lower anchor bars broke.
BMW kept investigating and determined numerous factors cause the problems, primarily the rigid connector used to connect the child restraint systems. Other factors were determined to be the size and weight of the child, the type of child seat and road conditions.
BMW emphasizes vehicles in the U.S. that use LATCH-type flexible connectors do not suffer from any defects.
The BMW recall should begin around July 12, 2016, when dealers start welding reinforced brackets to the lower anchor bars.
Front Driveshafts
A separate recall of more than 21,000 BMW vehicles will see repairs made to fix front driveshaft problems. Recalled are the following vehicles:
2011 BMW X5 xDrive 35i
2011 BMW X5 xDrive50i
2011 BMW X5 M
2011 BMW X6 xDrive35i
2011 BMW X6 xDrive50i
2011 BMW X6 M
2011 BMW X5 xDrive35d
2011 BMW X6 Active Hybrid
BMW says the front driveshaft universal joint may allow water and debris to enter and damage the universal joint, causing a complete failure. Once that happens the front wheels are useless and the busted universal joint could damage other vital parts.
The recall should begin July 1, 2016. BMW dealers will replace the front driveshafts on the affected vehicles, but until then, owners of any of the recalled vehicles can always contact the automaker at 800-525-7417.