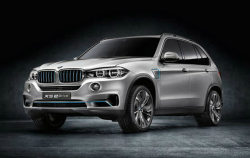 — A BMW X5 door lock lawsuit alleges the doors lock or can fail to unlock spontaneously, leaving people trapped inside the SUVs. The X5 remote door lock class-action lawsuit was filed by California resident Kieva Myers who owns a 2013 BMW X5.
Myers says the SUV came equipped with a feature that allegedly allows the doors to lock or unlock when the remote is near the SUV. However, the feature should be deactivated if the keys are inside the X5. According to Kieva, her young child was locked inside the SUV with the keys and the only choice was to break the window.
Saying the doors can spontaneously lock in all 2008-2015 X5 SUVs, the plaintiff says an obvious defect exists to allow the locks to activate with the keys inside.
Owners of BMW X5 SUVs have complained about the remote locking feature and how the feature didn't work well for them or their children.
"Car was parked with engine off. Car locked itself after our two kids were secured in the backseats and their doors shut with my wife outside! it was over 90 degrees outside and she did not have much time to call for help. My 5 year old's attempts to open the door resulted in alarm going off and everything shut down." - 2009 BMW X5 owner / Kansas City, Missouri
Another 2009 X5 owner was allegedly injured after the glass had to be knocked out just to escape the SUV.
"My daughter was put in the backseat in a hot (100F) car and strapped in. My wife placed her purse (keys in it) on the middle console. The door was shut and locked on its own, locking my child in the car. We called BMW assist to remotely unlock the car. This did not work. A neighbor fireman came and broke the window. The car still would not unlock and my wife crawled through the broken window cutting her leg to get my now hot, red and lethargic child out of the car." - 2009 BMW X5 owner / Yucaipa, California
Myers says BMW told her there must have been a malfunction of the locking system or the remote transmitter must have been activated by mistake. Furthermore, the lawsuit claims BMW said in an email, "...it is not impossible to lock a key in the vehicle- and to do so is not necessarily indicative of a malfunction."
The door lock lawsuit alleges BMW concealed the defect from consumers and placed the expense of repairs on owners. Additionally, the plaintiffs say their SUVs aren't worth what they should be because of the alleged lock defect.
The BMW X5 door lock lawsuit was filed in the U.S. District Court for the Northern District of California - Myers v. BMW of North America LLC et al.
The plaintiff is represented by the Law Office of Robert L. Starr.