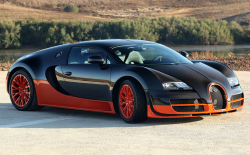 — Bugatti is recalling 72 cars to repair problems with the gas gauges that can cause drivers to think more gas is in the tank than in reality, causing a danger of running out of gas.
At an average cost of about $2 million per car, the 2006-2010 Bugatti Veyron and 2010-2011 Veyron Grand Sport supercars are made by Volkswagen, the company in the midst of an emissions scandal costing billions of dollars.
Bugatti says the cars need the fuel tank control units replaced and the software upgraded. The recalled Bugatti Veyrons were manufactured October 3, 2006, to January 17, 2010, and the 2010-2011 Veyron Grand Sport cars were built September 29, 2009, to June 30, 2010.
Separately, Bugatti is recalling almost 90 model year 2006-2010 Veyrons, 2010-2012 Veyron Grand Sports and 2011-2013 Veyron Super Sport cars to repair aluminum plates on the bottom of the cars.
The plates are used for car jacks for support when raising the car for changing a tire or other service. The automaker says the aluminum plates can corrode and fly away from the cars, leading to a road safety hazard.
Bugatti dealers will rivet and seal the underbody aluminum jack plates to protect them from corrosion and keep them attached to the cars.
The Veyron is the victim of another recall involving corrosion, this time corrosion of the positive battery cable and the connection to the alternator.
The automaker says 13 model year 2006-2008 Veyrons, manufactured October 3, 2006, to December 22, 2006, are vulnerable to corrosion that can cause the cables to overheat. A loss of power is possible or a loss of the car from a fire.
Volkswagen doesn't know when any of the recalls will begin. Owners with questions can call the automaker at 248-754-5000.