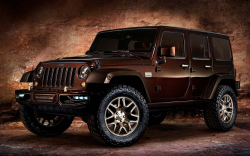 — Chrysler is recalling nearly 225,000 Jeep Wranglers because both frontal airbags can fail to deploy in a crash. Fiat Chrysler (FCA US) says the 2016-2017 Jeep Wrangler SUVs have problems with connections between the front impact sensor wiring and the occupant restraint controllers.
FCA says it performed a crash test in July 2016 and the front airbags and seat belt pretensioners did not deploy. Engineers determined the left front impact sensor wiring detached at the sensor connector during the test.
The disconnect occurred when a headlight rotated and caused the sensor wiring to pull away from the impact sensor before a signal could reach the occupant restraint controller.
Engineers then found both front areas where sensor wires come out of the main harness had been modified for 2016-2017 Wranglers. Tests conducted on model year 2015 Jeep Wrangers confirmed the airbags worked as designed, so the problem clearly occurred because of changes made starting with 2016 models.
Chrysler then changed the routing of the impact sensor wiring back to the design used in the 2015 Jeep Wranglers.
The automaker says it is unaware of any accidents or injuries related to the defect, and all the 2017 Wranglers are still in the hands of dealers.
The recalled 2016-2017 Jeep Wranglers were built June 16, 2015, to August 14, 2016.
While the automaker knows the Wranglers need repairs, Chrysler doesn't know how to fix the problem, so when the recall will begin is up in the air.
Owners of 2016-2017 Jeep Wranglers can call 800-853-1403 and ask about recall number S76.
CarComplaints.com has complaints about the 2016 Jeep Wrangler and other model years of Jeep Wranglers.