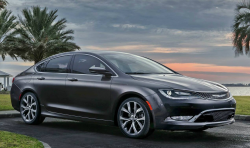 — Fiat Chrysler (FCA US) is recalling nearly 410,000 vehicles to replace wire harnesses and update software, fixing problems that could cause the vehicles to stop moving forward.
Included in the recall are the 2015 Chrysler 200, 2015 RAM ProMaster City, 2015 Jeep Renegade and 2015 Cherokee. Certain 2014 Jeep Cherokees are also affected. The automaker says the vehicles are equipped with 9HP48 or 948TE transmissions.
Although unaware of any accidents or injuries, Chrysler says the vehicles could experience a loss of propulsion due to wire harnesses that may not have been crimped enough.
The automaker was examining warranty data and opened an investigation that determined an insufficient crimp in a wire harness could cause a fault code in the solenoid. If that occurs, the vehicle will stop moving, something Chrysler says can temporally be fixed by stopping the vehicle and re-starting the engine.
FCA says more than 323,300 of the vehicles are in the U.S. with another 35,511 in Canada, 7,067 in Mexico and nearly 44,000 vehicles are outside those areas. Vehicles built after September 23, 2014, are not recalled because Chrysler made changes in the harness-manufacturing process.
The recall is expected to begin on August 26, 2016. Owners may contact Chrysler customer service at 800-853-1403 and use recall number S55.
Read complaints about the Fiat Chrysler vehicles named in this recall: