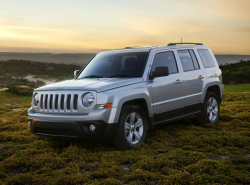 — A Jeep Patriot fuel transfer tube lawsuit has been filed by the mother of a 32-year-old man who was killed after his 2012 Jeep Patriot stalled on Interstate 84 in Idaho.
The woman, Beth Richmond, wants Fiat Chrysler to pay $11 million in the death of her son who was struck and killed by a tractor-trailer on August 31, 2013.
According to the lawsuit, Jason Richmond was driving the Jeep Patriot when it stalled due to a defect in the fuel system. Local reports said Mr. Richmond was struck and killed by the tractor-trailer while he was standing on the side of the Jeep helping the tow-truck driver.
The plaintiff says Mr. Richmond purchased the Jeep Patriot about a year before his death believing the SUV was safe and reliable transportation. However, the SUV allegedly had problems with a faulty fuel transfer tube that restricted the flow of fuel to the engine, causing the engine to stall.
The plaintiff claims Chrysler knew or should have known the transfer tube was defective at the time of sale, but chose to sell the SUV instead of fix it.
Problems associated with Jeep Patriot engines stalling have caused owners to complain about the SUVs.
"1/4 tank of gas, about 10 minutes before was in bumper to bumper stop and go traffic due to an accident for about 15 minutes, was just beginning to go up an incline on the highway. Couldn't restart right away." - 2012 Jeep Patriot owner / St. Louis, Missouri
"Car was supposedly "fixed" by dealer after engine died the first time at 1887 miles. Car was driven 167 miles and died again while traveling at highway speeds, had 1/4 tank gas. All systems shut down, no warning lights or other indicators of possible problems-- again, we could have been killed." - 2012 Jeep Patriot owner / Okemos, Michigan
Chrysler recalled 2012 Jeep Patriots in April 2013 because of transfer tubes that weren't manufactured properly. At the time, Chrysler said the engines could stall because the fuel from the secondary side wouldn't make it to the primary side of the tanks.
Jeep Patriot owners were expected to be notified of the recall in May 2013, but the lawsuit doesn't say if Mr. Richmond received a recall notice.
The Jeep Patriot fuel transfer tube lawsuit was filed in the Multnomah County Circuit Court of Oregon - Beth Richmond v Chrysler Group LLC, and Jake Sweeney Chrysler Jeep Dodge, Inc.
CarComplaints.com has complaints about the 2012 Jeep Patriot and other model years of Jeep Patriots.