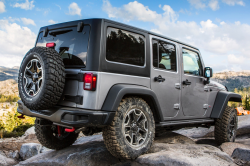 — Fiat Chrysler (FCA US) has named the one new vehicle that has the same Takata airbags that will eventually be recalled, and the automaker also said it will stop using all Takata airbags that don't contain a drying agent.
Takata airbags have killed at least 10 people in the U.S. and injured more than 140, all due to heat, moisture and age that can affect the explosive chemical called ammonium nitrate.
The chemical should provide a small explosive charge to deploy the airbags. Instead, the chemical can become unstable from moisture and cause the metal inflators inside the airbags to explode like grenades.
FCA says the 2016 Jeep Wrangler is the only new vehicle equipped with Takata airbags that do not contain a desiccate, a drying agent used to protect the ammonium nitrate from humidity and moisture.
Chrysler says consumers will be informed that buying a 2016 Jeep Wrangler means a trip back to the dealer to have the passenger-side airbag inflator replaced by 2019.
The automaker says within the next week it will stop manufacturing vehicles in North America with airbag inflators that don't contain the drying agent. The entire process will be stopped worldwide by mid-September.
Chrysler says most airbag inflators in FCA vehicles have propellants other than unprotected ammonium nitrate, while other inflators do contain ammonium nitrate, but those inflators are equipped with the desiccate.
Fiat Chrysler hasn't faced the kind of Takata airbag chaos other automakers are enduring and FCA isn't the only automaker selling new vehicles equipped with Takata airbags that will eventually be recalled.
Toyota says 175,000 Takata-equipped vehicles will be manufactured by July, including the 2016 Toyota 4Runner, 2016 Lexus GX 460, 2015 Lexus IS 250C and 350C and the 2015 Scion xB.
Volkswagen says buying one of these vehicles means a trip back to the dealer to have the airbags repaired: 2016 Audi TT, 2017 Audi R8 and the 2016 Volkswagen CC.
Mitsubishi, the automaker embroiled in a fuel economy scandal overseas, says its 2016-2017 i-MiEV electric cars contain problematic Takata airbags that will eventually be recalled.