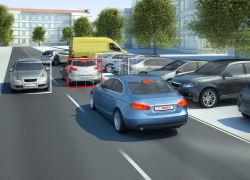 — Three consumer groups are accusing the National Highway Traffic Safety Administration (NHTSA) of missing a deadline to respond to a formal petition filed in January 2016.
The petition was filed by Consumer Watchdog, the Center for Auto Safety and Joan Claybrook, former NHTSA administrator and now president emeritus of Public Citizen.
The petitioners asked NHTSA to mandate automatic emergency braking (AEB) technology on all cars instead of allowing automakers to voluntarily make the features standard. Calling the process a "backroom deal," the groups say NHTSA has ignored the law by allowing the May 12, 2016, deadline to pass without a response to the January petition.
Automatic emergency braking technology allows a driver to receive a warning in the event of an imminent forward crash. If the driver doesn't take action, the computer will intervene and apply the brakes without the driver doing anything. Although some new safety technologies haven't showed tremendous success, automatic emergency braking has lowered insurance injury claims by 35 percent or more.
Due to the success of the technology, NHTSA and 10 automakers voluntarily agreed to eventually make automatic emergency braking standard on light-duty vehicles. However, the agreement is voluntary and Fiat Chrysler, Honda and Nissan at first didn't take part.
Then in January 2016, NHTSA announced a separate agreement with 18 automakers to create a voluntary program to improve safety. The agreement was created after weeks of secret talks between the government and automakers.
The consumer groups claim NHTSA isn't serious about safety when the agency allows car manufacturers to call the shots about what technologies to make standard and the time to make those features standard.
According to the petition, the groups were steaming mad due to safety officials ignoring the agency's mission of independent regulation of the auto industry, particularly after the recent safety disasters by GM, Takata, Volkswagen and other automakers and parts manufacturers.
"NHTSA was established by Congress in 1966, after extensive hearings and evaluation, based on which lawmakers concluded that, 'The promotion of motor vehicle safety through voluntary standards has largely failed. The unconditional imposition of mandatory standards at the earliest practicable date is the only course commensurate with seriously reducing the highway death and injury toll."
The consumer groups also say the voluntary agreement announced by NHTSA leaves consumers without the ability to challenge the automakers' violation of their pledges, nor would NHTSA have authority to recall cars with defects in the technologies.
The safety advocates say making safety technologies standard equipment is the only way to ensure all people on the roads are protected by available technologies, and not just people in certain income brackets.
To date, NHTSA has not responded to the petition.