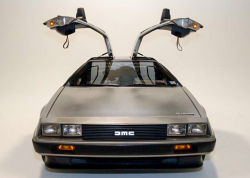 — Great Scott! A DeLorean arriving in 2017? Apparently so, as the car made famous by the "Back to the Future" movies is slated to appear in the future even though the car company itself disappeared in the past.
The DeLorean DMC-12 was sold from 1981-1983 and was the only model created by the DeLorean Motor Company. The car was set apart from the rest because of its distinctive "gull-wing" doors that pointed toward the sky.
Manufactured in Northern Ireland, about 9,000 cars were built before production was halted in 1983 as the company went bankrupt.
The DMC-12 is making a comeback because of something called the "Low Volume Motor Vehicle Manufacturers Act" which recently became law. Before the Act, manufacturers that sold small numbers of replica cars were faced with the same regulations as manufacturers that sold millions of cars.
Although the rules have changed, some rules remain the same. Small companies like DeLorean will still be required to register with the National Highway Traffic Safety Administration and the Environmental Protection Agency. That means the DMC-12 will have to pass Clean Air Act standards and will be subject to federal recalls and equipment standards.
Although many details haven't been released, the gull-wing doors and stainless steel body of the original cars will be matched in the new cars. In addition, the new DeLoreans will have more powerful engines than the original cars. An original DMC-12 has 130 horsepower whereas plans call for the new cars to come equipped with 300-400 horsepower engines.
The cost? The owner of a new DeLorean will shell out up to $100,000 for the winged replica. (Flux capacitor sold separately.)
Original 1981 DeLorean TV Commercial