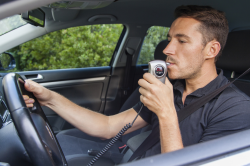 — Do ignition interlock devices work? If by "work" you mean decrease alcohol-related car accident deaths, the answer is yes. At least that's according to a study published in the American Journal of Public Health by researchers at the Perelman School of Medicine at the University of Pennsylvania.
An ignition interlock device (IID) uses a built-in breathalyzer to analyze blood alcohol content before starting a car. The car won't start if the result comes back above the programmed limit.
According to researchers, state laws that require convicted drunken drivers to pass a breathalyzer test before starting a car saved about 915 lives from 2004-2013. That's a 15 percent reduction in drunken driving deaths compared to states that do not require mandatory ignition interlock devices.
Furthermore, researchers estimate 2,600 lives could be saved if every state required the technology.
Currently, all states have some form of laws about the devices but only 23 states have laws that mandate the use of ignition interlock devices for convicted drunken drivers.
Those 23 states include Alabama, Alaska, Arizona, Arkansas, Connecticut, Delaware, Hawaii, Illinois, Kansas, Louisiana, Mississippi, Nebraska, New Hampshire, New Mexico, New York, Oregon, Tennessee, Texas, Utah, Virginia, Washington and West Virginia.
States that require the device also require the convicted driver pay for and install the device at a cost of about $150.
Thirty-percent of all 11,000 fatalities in car accidents each year involve drunken drivers. While ignition interlock devices help fight alcohol-related accidents, researchers emphasize many drivers are never convicted of an offense, in which case a device won't be required.
Nevertheless, the devices can at least keep some accidents and deaths from occurring and reduce the chances of someone being re-arrested for drunken driving.