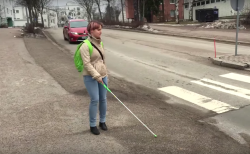 — After six years of waiting and many ignored deadlines, the National Highway Traffic Safety Administration (NHTSA) finally released its final rules to require automakers to install sound equipment on electric and hybrid vehicles.
The new law, Federal Motor Vehicle Safety Standard No. 141, will help pedestrians and cyclists hear the silent vehicles, especially when the vehicles are traveling at slow speeds.
It was 2010 when the Pedestrian Safety Enhancement Act was passed by Congress, leaving NHTSA with the job of creating rules for the law.
The silent electric motors are real killers to pedestrians, cyclists, runners and especially to the blind. Based on past studies, there is a 57 percent higher risk of a cyclist being hit by a hybrid or electric vehicle compared to a traditional gasoline-powered vehicle, and a 35 percent higher risk of a collision with someone walking or running.
The new rule means all electric and hybrid vehicles with four wheels and a gross vehicle weight of 10,000 pounds or less will be required to make audible noise when traveling in reverse or forward at speeds up to about 19 miles per hour.
The rule won't apply at speeds above 19 mph because NHTSA says other factors such as tire and wind noise provide adequate audible warning to pedestrians. In addition, the rule only applies when a vehicle is in full electric mode without the gasoline combustion engine in use.
NHTSA first proposed an emitted sound would have to vary in frequency as a vehicle changes speed by one percent per km/h for speeds between 0-30 km/h, something safety regulators called "pitch shifting." However, the final rule won't require pitch shifting but will instead depend on a simple increase in sound pressure levels as a vehicle increases speed.
The government says each electric and hybrid vehicle will need to meet minimum sound requirements when the propulsion system is activated, including when the vehicle is stationary. But, the rule won't apply if a stationary vehicle's gear selector is in PARK or the parking brake is applied.
NHTSA says a total of 2,464 injuries to pedestrians and cyclists are expected over the lifetime of the 2020 model year fleet if four percent of all model year 2020 vehicles are on U.S. roads. Under that assumption, NHTSA says the rule should result in 2,390 fewer injuries to cyclists and pedestrians.
As for the manufacturers, previous estimates suggest a cost of $23 million to automakers the first year to install the needed equipment, including at least one waterproof speaker used to broadcast the sounds.
The National Federation of the Blind says it is extremely pleased NHTSA released final rules to address silent hybrid and electric cars, saying the action will protect all pedestrians, especially the blind.
"The full implementation of the Pedestrian Safety Enhancement Act of 2010 will protect all pedestrians, especially the blind, as well as cyclists. This regulation will ensure that blind Americans can continue to travel safely and independently as we work, learn, shop, and engage in all facets of community life." - Mark A. Riccobono, president of the National Federation of the Blind
Manufacturers have until September 1, 2019, to equip all new hybrid and electric vehicles with sounds, and half the vehicles must be in compliance one year before the final deadline.