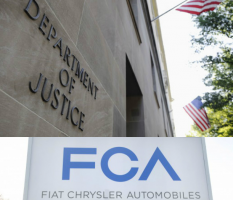 — The U.S. Department of Justice and U.S. Securities and Exchange Commission allegedly have Fiat Chrysler (FCA US) under a magnifying glass as the government seeks answers if Chrysler fraudulently padded vehicle sales numbers. Not a lot is known about the investigation which is in its early stages, but people familiar with the matter say it involves possible violations of U.S. securities laws.
Chrysler has sailed to record car sales since 2014 when Fiat took control of Chrysler, renaming the new company as Fiat Chrysler Automobiles (FCA US).
The automaker has dealt with accusations of inflated vehicle sales numbers when in January 2016, two large FCA dealerships sued Chrysler alleging the automaker inflated sales numbers.
The dealerships, located in Illinois and Florida, are part of the Ed Napleton Automotive Group, one of the largest car dealer groups in the country. The racketeering lawsuit alleges dealers were offered money if they reported vehicles as sold even if they were still sitting on the lots.
According to court documents, FCA allegedly paid certain dealers to report false sales on the last day of the month and then back out of the sales the next day before the factory warranty could begin.
The dealers also allege the automaker paid tens of thousands of dollars to certain dealers for falsely reporting 85 vehicle sales, then "non-conspiring" dealerships received no bonuses from the automaker. The lawsuit also accuses FCA of giving some dealers more popular models if those dealers falsified sales numbers.
Chrysler said in January an investigation determined the accusations were without merit and the dealers involved in the lawsuit were "disgruntled."
CarComplaints.com will update this page as more details become available about the Department of Justice investigation.