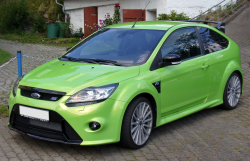 — An investigation into Ford Focus door latch problems has been closed by the National Highway Traffic Safety Administration (NHTSA), but only after Ford agreed to recall Focus cars along with other models.
Although NHTSA closed the investigation, the government learned of a lot of information it didn't know prior to the investigation.
NHTSA opened the Ford Focus investigation in January 2016 after Focus owners kept complaining about doors that wouldn't latch and doors that opened while driving. The original investigation included 2012-2013 Ford Focus cars with doors that had to be wired shut to keep them from opening.
When NHTSA opened the investigation, safety regulators said 73 reports had been filed by Focus owners about the door latches. However, NHTSA learned of 464 separate reports by the end of the investigation. Over 200 of those complaints say the doors opened when the cars were moving and the only warning was a light that said, "Door Ajar."
During the investigation NHTSA also learned that separate from the government, Ford received 500 complaints about the latches and at least 1,513 warranty claims.
NHTSA says one alleged injury was caused from a door that opened and bounced back and another injury involved a driver who said her hand was injured when trying to grab a door that opened. Another injury was to an occupant who allegedly received scratches from a rear door that opened while driving.
But maybe the biggest discovery was how many other Ford vehicles use the same door latches as the Focus. What started as an investigation into about 400,000 Ford Focus cars turned into a recall of 2.3 million Ford vehicles, including the following:
2013-2015 Ford C-MAX
2013-2015 Ford Escape
2012-2015 Ford Focus
2015 Ford Mustang
2015 Lincoln MKC
2014-2016 Ford Transit Connect
Ford says the problems are caused when a pawl spring tab breaks inside the side door latch, causing failure of the door to close properly. Although the problem will typically prevent the door from latching in the first place, the automaker says a door that is able to close could unintentionally open while the vehicle is moving.
Safety regulators say the investigation is closed because the door latch recall will apparently fix the safety risks.
If you own of the vehicles mentioned above and have questions about your door latches, call Ford at 866-436-7332 and give them recall number 16S30.