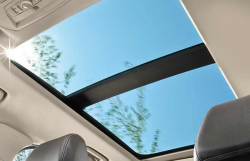 — A Ford panoramic sunroof lawsuit won't see the light of day after the very Ford owners who filed the sunroof lawsuit stepped back and dropped the complaint.
Lead plaintiffs Doug and Kathy Krebsbach walked away from their claims that Ford panoramic sunroofs are prone to exploding into shards of glass without warning.
The plaintiffs claim the panoramic sunroof in their 2013 Ford Escape exploded and covered the occupants with sharp pieces of glass, leaving the occupants stunned from the shotgun-like sound caused by the breaking glass.
The plaintiffs claim the panoramic sunroof exploded outward as if blown out from the inside, a problem other Ford owners have also reported.
The lawsuit references at least 80 complaints filed with the National Highway Traffic Safety Administration after the Ford sunroofs shattered.
The Ford exploding panoramic sunroof lawsuit names 16 models of Ford, Lincoln and Mercury vehicles at risk of the glass shattering.
2009-2016 Ford Focus
2010-2016 Ford Fusion
2011-2016 Ford Explorer
2009-2016 Ford Flex
2011-2016 Ford F 150
2009-2014 Ford Mustang
2013-2016 Ford C-Max
2007-2016 Ford Edge
2013-2016 Ford Escape
2007-2016 Lincoln MKX
2013-2016 Lincoln MKZ
2010-2016 Lincoln MKT
2014-2016 Ford Transit Connect
2009-2015 Lincoln MKS
2010-2011 Mercury Milan
2010-2011 Mercury Montego
The sunroof lawsuit alleges Ford used panoramic glass too lightweight and thin to withstand the pressures of being used as a roof, namely because the thinner glass helps with increased fuel economy. The plaintiffs also argue the large glass wasn't tempered correctly, leaving the glass in a vulnerable weakened state.
Considering owners have been complaining about the panoramic sunroofs since at least 2008, the lawsuit alleges Ford has long known about the problems but has historically ignored the issues.
Close to the time the lawsuit was filed, Ford recalled 2,600 model year 2014 Ford Transit Connect vans with panoramic roofs because the sunroofs can leak or completely detach from the vans. Ford blamed the problem on a bad bond between the panoramic roof and the body of the Transit Connect van, but no other models were recalled due to panoramic sunroofs.
Although Doug and Kathy Krebsbach pulled out of the lawsuit and dropped all their claims, it's possible other plaintiffs could file a new lawsuit concerning the sunroofs.
The Ford panoramic sunroof lawsuit was filed in the U.S. District Court for the Eastern District of California - Douglas Krebsbach, et al. v. Ford Motor Company.
The plaintiffs are represented by Simmons Hanly Conroy LLC, and Greg Coleman Law PC.
CarComplaints.com has owner-reported complaints about the Ford, Lincoln and Mercury models named in the panoramic sunroof lawsuit.