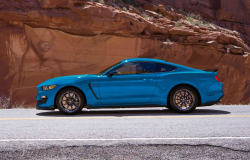 — Ford is recalling about 8,200 cars and trucks to fix different problems that can cause fires.
Ford Mustang Shelby GT350R Recall
Ford says 8,026 model year 2015-2017 Ford Mustang Shelby GT350R sports cars are at risk of fires because of oil leaks due to engine oil cooler tube assemblies that may not have been crimped enough on the hoses.
The insufficient crimps can cause a hose to separate and leak oil, causing engine failure, or if the oil leaks on an ignition source, a chance of fire.
However, the automaker says it's unaware of any fires, accidents or injuries related to the hoses.
The 2015-2017 Ford Mustang Shelby GT350R cars were built February 24, 2015, to August 30, 2016, with about 6,523 of the cars located in the U.S., 957 in Canada, 346 in Mexico and 59 in federalized territories.
Ford says its dealers will replace the engine oil cooler tube assemblies.
Ford Super Duty 6.7-Liter Chassis Cab Recall
Ford says model year 2017 Ford Super Duty 6.7-liter diesel Chassis Cabs need repairs to replace the adhesive-mounted protective shields currently installed on the fuel conditioning modules.
The 182 trucks have protective shields on the fuel conditioning modules that can be dislodged by water or road debris. Ford says a missing shield may force open the drain valve on the module and lead to air entering the fuel system. The problem can also cause a gas leak, and Ford says we're not talking about a small drip.
The automaker says the condition can cause fuel to leak in large amounts, not a good thing if the fuel is near an ignition source, but so far no accidents or injuries have been reported.
There are about 170 trucks in the U.S. and another 12 in Canada, all built between March 21, 2016, to August 28, 2016.
Ford hasn't said when any of the recalls will begin and the National Highway Traffic Safety Administration hasn't released details, but concerned owners should call Ford at 866-436-7332.
CarComplaints.com will update this page when additional recall details are made public.
Read complaints about the Ford Mustang and multiple models of Ford trucks.