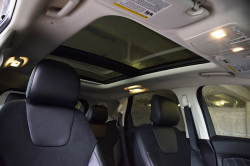 — Owners who have complained about Ford shattering sunroofs have filed a class-action lawsuit alleging the panoramic sunroofs in 16 Ford models can shatter without warning while driving.
The Ford shattering sunroof lawsuit was filed by Douglas and Kathleen Krebsbach, owners of a 2013 Ford Escape equipped with a panoramic sunroof, and one of the Ford models named as the problematic vehicles.
2009-2016 Ford Focus
2010-2016 Ford Fusion
2011-2016 Ford Explorer
2009-2016 Ford Flex
2011-2016 Ford F 150
2009-2014 Ford Mustang
2013-2016 Ford C-Max
2007-2016 Ford Edge
2013-2016 Ford Escape
2007-2016 Lincoln MKX
2013-2016 Lincoln MKZ
2010-2016 Lincoln MKT
2014-2016 Ford Transit Connect
2009-2015 Lincoln MKS
2010-2011 Mercury Milan
2010-2011 Mercury Montego
The plaintiffs claim the sunroofs shatter and cover occupants with shards of glass, leaving occupants shaken by the sound of exploding glass and causing dangerous driving conditions with cars traveling at highway speeds.
Mr. Krebsbach says he thought someone blew out the sunroof with a shotgun when the glass exploded on February 8, 2016, leaving the occupants with their hair standing up. According to the lawsuit, the vehicle was traveling at highway speeds when the glass exploded toward the outside but then sent glass into the car.
The plaintiffs say reports filed with the National Highway Traffic Safety Administration by Ford owners indicate about 90 panoramic sunroofs have shattered since at least 2008 when reports first came in about Ford Edge sunroofs exploding.
According to the lawsuit, sunroofs went from occupying small sections of the roof to the panoramic large glass of today's cars, making the job of engineers difficult for about 1 million Ford vehicles equipped with panoramic sunroof glass.
Based on court documents, testing performed on the large sections of glass shows problems with the tempering, leaving the glass in a weakened state and susceptible to shattering. The glass is thinner than it should be, which helps with the weight of the vehicle and therefore the mileage. But the lawsuit says the thin glass leaves occupants vulnerable to dangerous pieces of glass showering from above.
Also included in the lawsuit is information about a Korean study from 2013 where researchers determined the ceramic used with panoramic sunroofs can cause problems with the strength of the glass.
Shattering sunroofs have occurred to numerous vehicles from multiple automakers, but the plaintiffs claim the other manufacturers have tried to do something about the problems. According to the lawsuit, Ford refuses to pay for repairs and refuses warranty claims about the shattered sunroofs, all while refusing to recall the vehicles.
The Ford shattering sunroof lawsuit was filed in the U.S. District Court for the Eastern District of California - Douglas Krebsbach, et al. v. Ford Motor Company.
The plaintiffs are represented by Simmons Hanly Conroy LLC, and Greg Coleman Law PC.
CarComplaints.com has owner-reported complaints about the Ford models named in the shattering sunroof lawsuit.