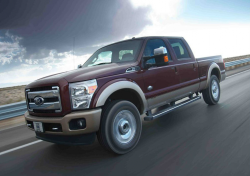 — The National Highway Traffic Safety Administration (NHTSA) has closed an investigation into almost 600,000 Ford trucks. NHTSA decided to look into the matter in January 2015 after receiving complaints about trucks that stalled at any speed.
The original investigation included 200,000 model year 2011-2012 Ford F-250, F-350, F-450 and F-550 super-duty trucks equipped with 6.7-liter diesel engines. NHTSA eventually added almost 400,000 additional trucks manufactured February 22, 2010, to January 30, 2015.
NHTSA looked at alleged problems with the exhaust gas temperature (EGT) sensors and additional problems with the calibration of powertrain control module (PCM) software.
Owners complained about receiving warning messages shortly before the trucks stalled. Ford initially thought the problem could be fixed by replacing one EGT sensor, but NHTSA says there are four sensors that could be affected.
It was determined a fault in one of the sensors can cause false exhaust over-temperature signals. This in turn affects the PCM which causes the driver to see a "Stop Safely Now" warning message.
The truck will first lose 70 percent engine power where the driver is unable to maintain speed. Next the PCM makes the engine shut down when the truck hits 1 mph and once stalled, the truck can't be immediately started.
Ford made changes to the PCM software and to the design of the EGT sensors that apparently fixed the problems. The automaker has also issued a "customer satisfaction program" (15M01) that extends warranty coverage to 8 years or 80,000 miles for the EGT sensors on certain 2011-2012 trucks.
NHTSA says since the changes and repairs have been made, the defect trend has been going down and no accidents, injuries or deaths have been caused by the stalling trucks.
Although safety regulators believe the problem does constitute a safety hazard, NHTSA say the problem is being taken care of and any further action wouldn't be "a wise use of agency resources."
Read complaints about the trucks named in the investigation: