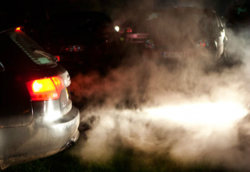 — French environmental authorities say an investigation into illegal vehicle emissions has found serious discrepancies between advertised emissions and real-world emissions levels.
In an attempt to put French consumers at ease, France took a look at 86 diesel models from multiple automakers, including Fiat, Ford and Renault. The environmental ministry says it found serious problems with the vehicles but calling anything an illegal "defeat device" may not be accurate because how the laws are constructed.
French regulators did discover special software to limit the control of emissions, but said the question of legality will need to be solved by others.
In Germany, the UK and elsewhere, automakers have argued emissions laws allow special software to alter emissions controls to protect the engines from damage. European law does allow for such software, but the automakers seem to believe the software should activate emissions controls constantly.
The 10-month French investigation determined more than 75 percent of vehicles had CO2 levels up to 50 percent higher than advertised while many vehicles emitted nitrogen oxides more than 10 times above legal limits.
Regulators say even with all the problems they found, there may be more problems undiscovered because access was limited to the vehicle's source code.
Consumer groups in France aren't happy with the government because France owns 20 percent of the automaker, Renault. Those consumer groups say federal authorities don't want to do anything that would decrease sales of Renault vehicles, so the safe bet is to say the emissions defeat devices may not be illegal.
Although the environmental ministry says the 86 diesel models have serious problems, more investigation is required to prove the problems are caused by software deemed illegal by the government.