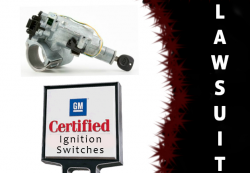 — General Motors might have avoided hundreds of possible lawsuits by creating a compensation fund for victims of deadly ignition switches, but those switches are still causing the automaker trouble in court.
The ignition switches could easily move from the "run" position to the "accessory" or "off" position because of a heavy key ring or from a bump in the road. Once out of the "run" position, the car would shut off and lose its power steering and power brakes. In the "off" position, the airbags would be unable to deploy in a crash.
The compensation fund paid out almost $600 million for claims related to 124 deaths and 275 injuries caused by the defective ignition switches. However, GM and its legal teams haven't had a chance to take any breaks because of a series of lawsuits still on the dockets.
One of those lawsuits will get underway on January 11, 2016, in the case of an Oklahoma man who was in a crash of a 2003 Saturn Ion. The 2014 crash injured plaintiff Robert Scheuer, the owner of the Saturn Ion that was part of a recall of millions of GM vehicles for ignition switch defects.
Scheuer says the bad switch prevented the airbags from deploying in the crash, and his case will set the standard for hundreds of claims still waiting in line.
General Motors tried to stop the lawsuit from reaching the trial stage, but U.S. District Judge Jesse Furman in New York ruled Scheuer provided enough evidence for a jury trial.
GM sought to have relevant evidence excluded, following the old rule that lawyers will argue anything, even if they don't always win. Judge Furman shot down GM's ideas based on the automaker's known delay in recalling the dangerous vehicles with known safety defects.
Scheuer wants to introduce at least 15 other similar incidents that have allegedly occurred to other GM owners, something the judge said he will consider. The case, General Motors LLC Ignition Switch Litigation, is part of multidistrict litigation that includes about 300 cases. About 1,300 of the ignition switch cases have already been settled, in addition to a settlement with shareholders, at a cost to GM of $575 million.
GM says the Scheuer accident shouldn't be a part of the ignition switch cases based on the accident itself. Mr. Scheuer claims his 2003 Saturn Ion was forced off the highway by another car, causing the Ion to crash into two trees. The airbags didn't deploy, allegedly due to the ignition switch defect. But GM argues the airbags weren't designed to deploy in a crash of that type.
Plaintiff Scheuer is represented by Bob Hilliard, Hagens Berman Sobol Shapiro, and Lieff Cabraser Heimann & Bernstein.