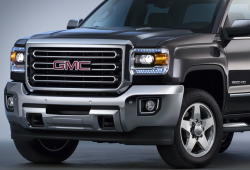 — General Motors wants a GMC Sierra headlight lawsuit dismissed after owners said the headlights were too dim in the 2014-2015 GMC Sierra 1500 and the 2015 GMC Sierra 2500 and 3500.
Plaintiffs Armando J. Becerra and Guillermo Ruela filed the GMC Sierra headlight lawsuit after claiming GM has long been aware of the alleged headlight defect in the GMC trucks but has concealed the problem from customers.
The lawsuit says GM used three different bulbs for the headlights in Sierra trucks prior to the 2014 model year trucks: a H11LL bulb for the low beams, a 9005LL bulb for the high beams and a 5202 bulb for the fog lights.
However, GM allegedly designed a new system that used one 9012 halogen single filament bulb for both the low and high beams. Historically, vehicle manufacturers have used dual filament bulbs for low and high beams. The plaintiffs say General Motors used a moving shield to alternatively project a low- or high-beam from the 9012 bulb that can leave drivers blind trying to drive at night.
The lawsuit says despite numerous complaints about the 2014 GMC Sierra 1500 headlights, General Motors still expanded the same allegedly dim headlight design to the 2015 GMC Sierra 1500 and the 2015 GMC 2500HD and 3500HD.
GM argues truck owners don't allege the lights malfunction in any way, so the case should be dismissed because other lawsuits have been dismissed because of similar claims.
GM also says the plaintiffs may talk about how insufficient light for safe night driving can and will lead to accidents and fatalities, the plaintiffs haven't showed any claims of injuries or accidents due to the allegedly defective headlights.
Additionally, attorneys for GM told the court the case should be pitched out because the plaintiffs don't accuse the automaker of making inaccurate statements about the brightness of the headlights. The court was also told the case should be dropped because there are no claims alleging the automaker intentionally sold trucks GM believed would be worth less due to the headlights.
General Motors told the judge that truck owners are upset because the headlights are manufactured differently, not because they are defective.
The GMC Sierra headlight lawsuit was filed in the U.S. District Court for the Southern District of California - Armando J. Becerra, Guillermo Ruela, et al. v. General Motors LLC, et al.
The plaintiffs are represented by Faruqi & Faruqi LLP, Premier Legal Center, and Patrick Law Firm P.C.
CarComplaints.com has complaints about GMC Sierra headlight problems: