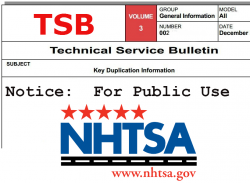 — The Department of Transportation (DOT) and the National Highway Traffic Safety Administration (NHTSA) have agreed to implement measures to publicly post all vehicle technical service bulletins (TSBs) and communications to dealers concerning defects in vehicles.
In what can only be described as a big win for consumers, DOT will publicly post all defect-related information, even if it's not safety related.
The government announced its plans after the Center for Auto Safety (CAS) sued DOT Secretary Anthony Foxx alleging violations of federal law concerning auto safety.
The significance of MAP-21 to car owners
The Center has been waiting for this announcement since 2012 with the passage of the Moving Ahead for Progress in the 21st Century Act, or MAP-21. The Act specifically says automakers:
"shall give the Secretary of Transportation, and the Secretary shall make available on a publicly accessible Internet website, a true or representative copy of each communication to the manufacturer's dealers or to owners or purchasers of a motor vehicle or replacement equipment produced by the manufacturer about a defect or noncompliance with a motor vehicle safety standard prescribed under this chapter in a vehicle or equipment that is sold or serviced."
CAS filed the lawsuit after arguing that despite the law, the government hasn't been providing consumers with "true or representative" copies of communications.
To date, a consumer can view only a fraction of a TSB when searching the website of NHTSA for details about a specific vehicle.
Car manufacturers have repeatedly said they are legally protected from posting certain communications and bulletins to the public based on copyright laws. Because of copyright claims made by companies, NHTSA has always let the automakers call the shots on what is publicly posted. However, NHTSA now admits the copyright argument is meaningless because passage of MAP-21 supersedes all alleged copyright claims.
Pulling back the curtain on all automotive defects
NHTSA further says in addition to defect information, the government will also require equipment and vehicle manufacturers to prepare searchable indexes to TSBs and dealer communications. This alone will be a huge help for consumers looking for information on potential vehicle problems because an index must identify the make, model and year of the affected vehicles and include a concise summary of the subject matter of the communication.
CAS says the new measures will save consumers money on repairs for problems covered by TSBs and from previously hidden communications with dealers, not to mention the possibility of saving lives.
Just one example comes from the deadly consequences of defective GM ignition switches.
"In December 2005, GM issued a TSB warning that the ignition switch could shut off while driving that was never posted by the Department of Transportation. Nine months earlier in February 2005, GM issued a electronic dealer alert warning that the ignition switch could cut off while driving. This alert was never made public. Disclosure of these dealer communications could have saved lives and led to an earlier discovery of the ignition switch defect." - CAS Executive Director Clarence Ditlow
In a notice posted to the Federal Register, NHTSA says vehicle and vehicle equipment manufacturers are required to submit to the government copies of communications to dealers, owners or purchasers about any defect or noncompliance issue. That part of the notice has been part of current regulations, but this time NHTSA goes on to say the following:
"Additionally, a change in the law requires NHTSA to publicly post all such communications on its Web site and it is therefore providing notice of its intention to do so. NHTSA will also publicly post on its Web site the manufacturers' indexes to their communications as they are received."
With regard to defects, NHTSA has informed manufacturers of what the word "defect" means, specifically saying ''defect'' is a statutorily defined term meaning ''any defect in performance, construction, a component, or material of a motor vehicle or motor vehicle equipment.''
This will allow consumers to search for car problems that may not legally be defined as causing a risk to safety, something that has never before been available to the public.
The Center for Auto Safety is represented by Adina Rosenbaum of the Public Citizen Litigation Group.