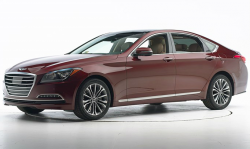 — Hyundai is recalling over 11,100 model year 2015 Genesis cars to replace tires that can suffer from cracks on the inside sidewalls.
In March of 2015, Hyundai created a "service campaign" after Genesis owners complained about vibrations and road noise. Hyundai told dealers to replace the factory-equipped Hankook tires with Continental or Michelin tires, based on the size of the tires.
In October 2015, Hankook had a tire returned with a sidewall crack and opened a quality inspection of the tires. It was determined the tires could experience premature cracks in the inside sidewalls under certain extreme conditions. The only warning a driver may have is an illuminated tire pressure monitoring system light.
Saying they are acting out of "an abundance of caution," Hyundai and Hankook decided to order recalls. The total number of recalled tires is about 47,000, which includes the tires on the Hyundai Genesis and separate tires used as replacements.
The recalled 2015 Genesis cars were built March 3, 2014, to February 9, 2015.
Hyundai says the Hankook Ventus S1 noble2 tires will be replaced when the recall begins on February 19, 2016.
Owners of the Hyundai Genesis may contact Hyundai at 855-671-3059 and use recall number 138.