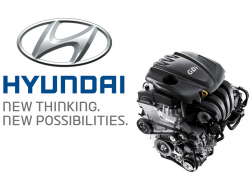 — A Hyundai Sonata engine failure class-action lawsuit has reached the proposed settlement agreement stage and now awaits final approval from the judge.
The Hyundai Sonata engine lawsuit was filed by the owner of a 2011 Hyundai Sonata who claimed the Theta II engines seize from defects Hyundai knew existed from the time the cars were first manufactured.
The plaintiff says after hearing noise coming from the Sonata engine, and with 85,000 miles on the car, a dealer said it would cost $4,500 to replace the engine. Hyundai said she would have to pay for the repairs because the cost wouldn't be covered under warranty, so she had the engine replaced for $3,000 by an independent mechanic.
The Sonata lawsuit alleges the Theta II 2.4-liter engine can seize after the connecting rods start to fail, sending metal debris traveling throughout the engine and contaminating the oil.
The plaintiff says the Sonata engine can seize while driving at any speed and cause severe dangers to the occupants and others on the road. In addition, the lawsuit alleges the engines can seize shortly after the warranty expires which leaves owners paying for all repairs.
Although the original lawsuit named the 2011-2012 Hyundai Sonata cars, the proposed settlement includes all model year 2011-2014 Hyundai Sonata cars in the U.S. equipped with Theta II 2-liter or 2.4-liter gasoline direct injection engines.
The proposed settlement has Hyundai reimbursing Sonata owners who paid for engine block repairs or replacements within 10 years and under 120,000 miles of the car's original sale or lease. The proposed agreement also includes expenses related to towing or rental cars needed due to the defective engines.
Sonata owners will also be reimbursed for any loss of resale value if the car suffered engine failure and was sold or traded with engines that were not repaired.
Hyundai Sonata owners who haven't had engine problems will receive a pamphlet in the mail describing how the engines can seize and recommending owners take the cars to dealers. Hyundai dealers will inspect the engines and determine how to prevent the engines from failing.
The automaker says if a Sonata has more than 120,000 miles on the odometer at the time of notice, Hyundai will offer a 90-day window to provide coverage of needed engine repairs and replacement regardless of mileage. Additionally, future engine repairs or replacement will be covered under an extended 10-year/120,000 mile warranty.
Owners of the 2011-2014 Hyundai Sonata should sit tight and watch their mail because the proposed settlement is subject to court approval. The court will set a final approval date at some point in 2016.
Read Hyundai Sonata engine complaints about the model years named in the lawsuit: