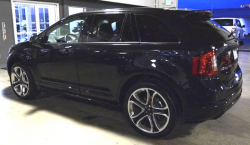 — Model year 2014 Ford Edge SUVs with 22-inch alloy wheels won't be recalled as the National Highway Traffic Safety Administration (NHTSA) has closed its investigation into the wheels.
NHTSA received a complaint in November 2014 regarding a separation of an original 22-inch alloy wheel rim mounted on the right front of a 2014 Ford Edge. The Ford Edge owner complained they were driving when they thought the car dropped down onto the road.
The driver heard a scraping sound before the SUV went off the road and into a field, the tire thrown off the 22-inch alloy wheel.
The owner said the wheel rim was broken into two pieces and there was no warning of a problem before the SUV went off the road. With only 8,500 miles on the Edge, NHTSA opened the investigation based on the one complaint to verify there wasn't a problem with the wheels.
Ford was contacted about the matter and supplied information to the government about the 22-inch alloy wheels used on the 2014 Ford Edge and other Ford vehicles.
In July 2015, Ford responded by saying a search of incidents showed just one occurrence of a broken wheel, and that occurred to the owner who filed the complaint. Furthermore, the failed wheel was sent to the government for testing of the materials used in the alloy wheels.
NHTSA determined the Ford Edge wheel failed because a severe impact caused a crack in the wheel that eventually expanded around the wheel. Based on the evidence, investigators saw a rough appearance that showed a rapid stress fracture but no abnormalities or unique features associated with the site of the fracture.
NHTSA's metallurgical analysis of the rim found the material was within specification and no anomalies were identified that could have contributed to the wheel failure.
Although the safety agency will continue to monitor future wheel complaints, NHTSA says the 2014 Ford Edge 22-inch wheel investigation is closed.
Read owner-reported complaints about the 2014 Ford Edge and many other model years of Ford Edge crossover SUVs.