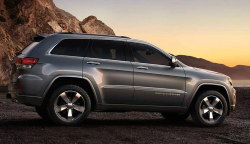 — The National Highway Traffic Safety Administration (NHTSA) has closed an investigation into possible automatic emergency braking (AEB) problems in 95,000 model year 2014-2015 Jeep Grand Cherokees by finding the SUVs performed as well or better than peer vehicles in testing.
Owners of 2014 Jeep Grand Cherokees complained about AEB systems that activated while driving, leaving drivers with a warning of an imminent crash and then feeling the brakes activate on their own.
The federal investigation was opened in June 2015 after nine complaints alleged automatic emergency braking activated without a reason. The investigation first focused on 2014 Jeep Grand Cherokees, but NHTSA added the 2015 model year to the investigation and found 176 complaints that were submitted by consumers.
However, out of all the reported incidents, none resulted in crashes or injuries.
Automatic emergency braking is a safety feature that reduces rear-end crashes and occupant injuries. AEB systems warn a driver of an imminent forward crash and if the driver doesn't hit the brakes, the car will do it for them.
In research conducted by the Insurance Institute for Highway Safety, about 700,000 rear-end crashes could have been avoided in 2013 if the technology would have been standard in all vehicles. The systems use cameras, lasers and radar to detect forward collisions, something that can reduce the severity of injuries even if a collision isn't entirely avoided.
NHTSA said it evaluated 1,476 Jeep Grand Cherokee warranty claims related to AEB system malfunctions and found that about 98 percent of warranty part replacements were related to a damaged sensor mounting or malfunctions in the radar sensor. Sensor problems may trigger warning messages to the Grand Cherokee driver, but the sensor will not cause automatic emergency braking events.
Safety regulators looked at the design of the Jeep system, the frequency and severity of the reported incidents and how the system performed during testing conducted for NHTSA's 2014 automatic emergency braking test program.
It was determined brake activations were limited in braking force and duration, and although a few consumers said full AEB was involved, NHTSA said the system isn't capable of that unless driver brake application triggers the "advanced brake assist" mode.
Any unintended braking events that did occur were random and not caused by any single condition, including traffic conditions or environmental factors. The incidents were also of a short duration of moderate braking events that only caused minimal changes of speed.
According to NHTSA, considering the 2014-2015 Jeep Grand Cherokees performed as well or better than peer vehicles in testing and no defects were discovered, the investigation is closed and no recall is necessary.