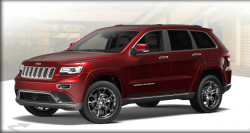 — Jeep Grand Cherokee rollaway incidents will get a closer look by the National Highway Traffic Safety Administration (NHTSA). In addition, the upgraded investigation will now include Chrysler 300 and Dodge Charger cars equipped with 3.6L engines, bringing the total number of vehicles to 856,000.
The government opened the original Jeep investigation in August 2015 after complaints about 2014-2015 Grand Cherokee SUVs rolling away and causing tons of problems.
NHTSA says to date, there are 306 incidents of Jeep Grand Cherokees rolling away after owners believed the SUVs were shifted into "Park." The 306 rollaway incidents resulted in 117 alleged crashes and 28 injuries. Those injuries include pelvic fractures, broken kneecaps, a ruptured bladder, busted ribs, sprained knees, trauma to the legs, lacerations to the face and various other injuries.
Safety regulators say the Jeeps are equipped with Monostable electronic gearshift assemblies. When a driver chooses a gear, the system transmits the information from the shifter to the transmission control module which makes the requested shift. The Monostable gear selection is shown on the dash along with illuminated letters on the shifter.
If the driver-side door is opened when the shifter is not in Park, a chime and message warns the driver. Additionally, the Start/Stop push-button blocks the engine from being shut down in a normal fashion if the transmission is not in Park.
NHTSA says the system doesn't protect a driver who intentionally leaves the engine running or for a driver who does not recognize the engine keeps running after an attempted shut-down.
Investigators also said testing showed the Monostable shifter doesn't do a good job in providing gear selection information, increasing the odds of unintended gear selection.
NHTSA also discovered 2012-2014 Chrysler 300 and Dodge Charger vehicles equipped with 3.6L engines use the same Monostable shifter. Eight complaints have been filed about those cars, including four accident reports and two injuries.
NHTSA says the 2015 models of those cars aren't affected because Chrysler changed the shifter design in 2015.
The original preliminary investigation has been upgraded to an engineering analysis to determine if 856,000 vehicles should be recalled.