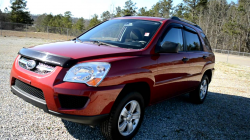 — Kia is recalling more than 71,700 model year 2008-2009 Kia Sportage SUVs after nine customers reported engine fires caused by salt water shorting out circuit boards.
Kia says corrosion to the wire harness connector pins in the hydraulic electronic control unit assembly can occur due to improper sealing of the wire harness cover.
The cause is simple salt water from road salt as it reaches the circuit board and causes electrical short circuits to the circuit board, which could lead to an engine fire. Kia says there is a real risk of fire, but the short circuits won't affect brake performance.
Kia says the only warning, other than smoke or fire, will be a warning light illuminated on the instrument panel.
The automaker learned of an engine fire in a 2008 Kia Sportage and had the SUV shipped to headquarters in April 2016. Upon first inspection, engineers believed the anti-lock braking system control module area was where the fire started, so Kia notified the supplier, Mando. Additional investigations determined the hydraulic electronic control unit was the cause of the fire, but Kia still didn't know the root cause.
Engineers found the hydraulic electronic control unit circuits weren't affected by regular fresh water, but salt water increased conductivity in the circuits.
With additional fires reported, the automaker collected samples from the SUVs and found sodium content was above normal in the brake fluid. In September, Kia and Mando determined salt water caused serious problems, but exposure to fresh water or brake fluid didn't cause overheating or fires.
Although no accidents or injuries have been reported in the SUVs, built August 9, 2007, to May 13, 2009, Kia has received nine customer complaints about engine fires.
The Sportage recall is scheduled to begin November 28, 2016. Kia dealers will inspect the connector pins for corrosion and if no corrosion is found, dealers will replace the connector covers with covers that have improved seals. However, if dealers notice corrosion, the hydraulic electronic control unit assemblies will be replaced in addition to the connector covers.
Kia says Sportage owners who already paid to have the problem fixed can qualify under Kia's reimbursement plan.
Affected owners who may have questions may contact Kia customer service at 800-333-4542 and give them recall number SC138.
CarComplaints.com has complaints about the 2008 Kia Sportage, 2009 Kia Sportage and other model years of Kia Sportage SUVs.