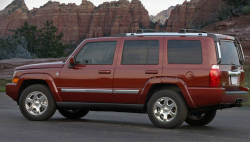 — A car safety recall is supposed to fix problems, but according to a proposed class-action lawsuit against Fiat Chrysler (FCA US), a Jeep recall caused problems that weren't there before the recall.
Plaintiff Lynn Grimstad filed the lawsuit alleging the problems occur in 2005-2010 Jeep Grand Cherokees and 2006-2010 Jeep Commanders that were recalled in 2013.
The story begins with the recall of nearly 300,000 of the Jeeps in May 2013 to keep the SUVs from rolling away. At the time, Chrysler said a transfer case electrical failure could cause an unintentional shifting of the transfer case into the neutral position. However, according to the lawsuit, a circuit board could fracture because of a hardware defect and cause the Jeeps to roll away.
Chrysler's plan was to update the software of the drive controller which governs the transfer case. However, the plaintiffs claim the software changes made it impossible to shift the SUVs into the low-gear of four-wheel-drive.
Grimstad says the SUVs are equipped with Quadra-Drive II or Quadra-Trac II four-wheel-drive systems with "final drive control modules" that were disabled by the software changes made during the recall. This allegedly causes a failure of the transfer case to shift into neutral and further disables the four-wheel-drive lock capability.
That feature gives drivers more axle torque for off-road driving or towing a heavy load. According to the lawsuit, the recall repairs disabled a feature necessary for the safety of the SUVs.
Grimstad claims trying to shift the SUVs into low gears doesn't work and only causes a light to illuminate that says "Service 4WD System." In addition, Grimstad says Chrysler tried to fix problems with a software update instead of replacing hardware, all allegedly to save money on repairs.
The plaintiffs say they would have never allowed the recall repairs if they would have known the repairs could affect the four-wheel-drive features.
According to the plaintiffs, the automaker showed a "reckless disregard" of the truth when Chrysler said it would repair the SUVs under the recall but instead caused additional problems.
The Jeep Grand Cherokee and Commander lawsuit was filed in the U.S. District Court for the Central District of California - Grimstad, et al v. FCA US LLC, et al.
The plaintiffs are represented by A.O.E. Law & Associates.
CarComplaints.com has complaints about the Jeep Grand Cherokee and Jeep Commander SUVs named in the lawsuit:
Jeep Grand Cherokee
Jeep Commander